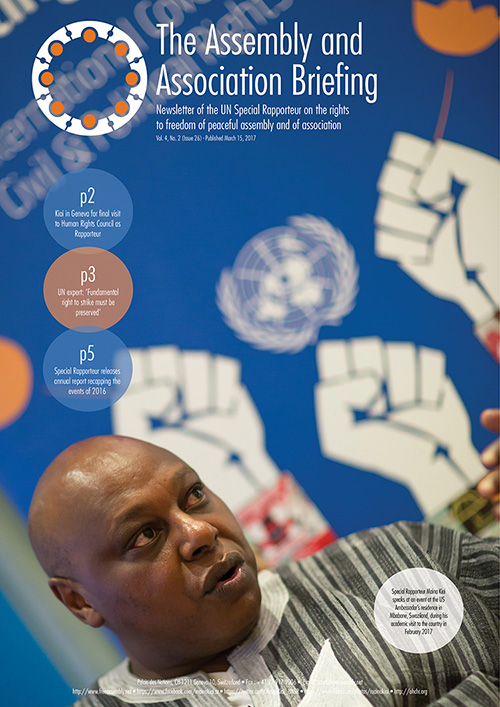 Issue No. 26 of the Assembly and Association Briefing, the newsletter of Maina Kiai, UN Special Rapporteur on the rights to freedom of peaceful assembly and of association.
In this issue:
• Kiai visits Geneva for final Human Rights Council session as Rapporteur
• UN rights expert: 'Fundamental right to strike must be preserved'
• Bangladesh: stop enforced disappearances
• 10 Principles civil society guide: Advocate for better management of assemblies
• Letter from the Rapporteur: Our fight isn't just about closing space; it's a 'struggle for future of democracy'
• Maina Kiai releases annual report: 2016 in assembly & association rights
• Experts urge Kenya to end crackdown on rights groups to ensure fair elections
• Viet Nam: end detention of 'Mother Mushroom'
• Burundi: UN experts raise alarm at growing repression of NGOs and human rights defenders
• UN expert concerned about recurring violence against demonstrators in Belarus
• Assembly & association rights: By the numbers
• Special Rapporteur news in brief: February – March 2017
• World briefing: Assembly & association rights in the news
For a link to the newsletter, click on the image at right or click here (1.7 MB file).
To subscribe to our newsletter, please drop us a line at info@freeassembly.net with the subject line "subscribe to newsletter."
For other recent newsletters, see the links below:
The Assembly and Association Briefing, Vol. 3, No. 6 (Issue 23) (September-October 2016)
The Assembly and Association Briefing, Vol. 3, No. 7 (Issue 24) (October-November 2016)
The Assembly and Association Briefing, Vol. 4, No. 1 (Issue 25) (December 2016-January 2017)
Comments
comments