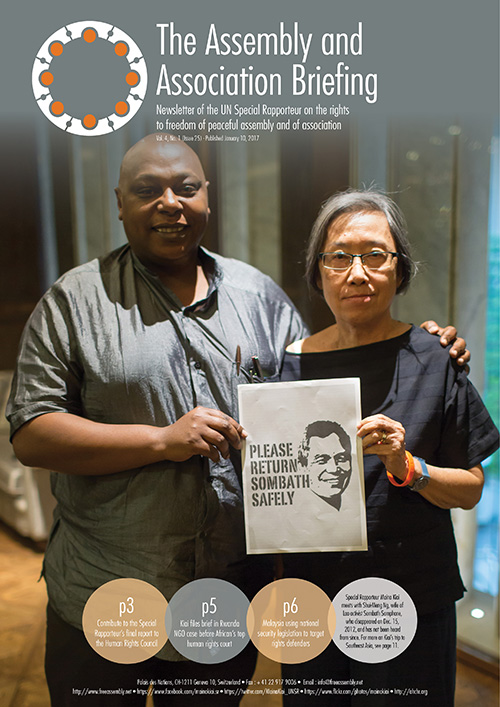 Issue No. 25 of the Assembly and Association Briefing, the newsletter of Maina Kiai, UN Special Rapporteur on the rights to freedom of peaceful assembly and of association.
In this issue:
• Egypt NGO bill threatens to "devastate" civil society, Kiai warns (plus other Egypt news)
• Call for input on the Special Rapporteur's final report: Mapping the history and achievements of civil society
• DR Congo: UN experts urge Government to lift "abusive" restrictions on protesters to head off violence (plus other Democratic Republic of Congo news)
• Government cannot interfere with NGOs' internal affairs, Kiai tells Court in Rwanda case
• Iran: Experts condemn charges against Raheleh Rahemipour
• Malaysia: Stop targeting rights defenders under national security legislation
• Human Rights Day 2016: Rights under increasing attack worldwide
• UN group renews call for Saudi Arabia to release human rights activists
• Native Americans facing excessive force in North Dakota pipeline protests – UN expert
• UN experts condemn Ecuador clampdowns on human rights organizations
• Rights defenders under growing legal pressure in Occupied Palestinian Territories
• Cameroon: Halt violence against English-speaking minority protests
• Assembly & association rights: By the numbers
• Special Rapporteur news in brief: December 2016 – January 2017
• World briefing: Assembly & association rights in the news
For a link to the newsletter, click on the image at right or click here (3.8 MB file).
To subscribe to our newsletter, please drop us a line at info@freeassembly.net with the subject line "subscribe to newsletter."
For other recent newsletters, see the links below:
The Assembly and Association Briefing, Vol. 3, No. 5 (Issue 22) (July-August 2016)
The Assembly and Association Briefing, Vol. 3, No. 6 (Issue 23) (September-October 2016)
The Assembly and Association Briefing, Vol. 3, No. 7 (Issue 24) (October-November 2016)
Comments
comments