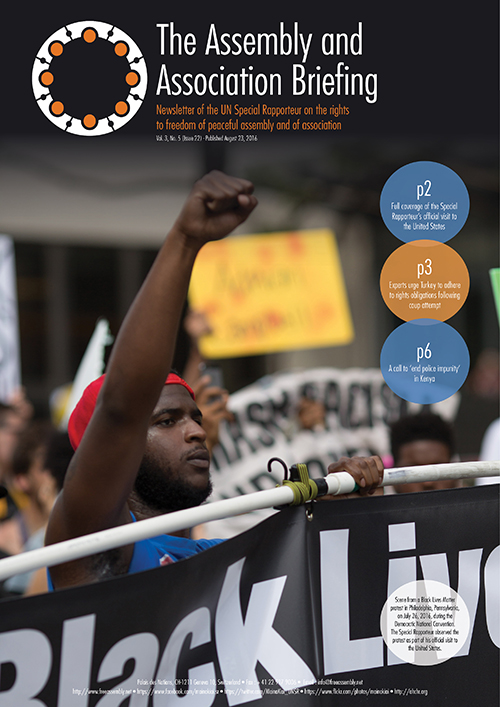 Issue No. 22 of the Assembly and Association Briefing, the newsletter of Maina Kiai, UN Special Rapporteur on the rights to freedom of peaceful assembly and of association.
In this issue:
• USA visit: Inequality casts dark shadow over assembly and association rights
• UN experts urge Turkey to adhere to its human rights obligations even in time of declared emergency
• Bill threatens expressive freedom in Maldives, expert warns
• Israel: UN experts caution against NGO law
• Rights experts condemn killing of Cambodian political analyst Kem Ley
• "End police impunity" – alarm over pattern of extrajudicial killings in Kenya
• Bahrain urged to end 'systematic' persecution of Shia
• Expert urges Thailand to ensure free debate ahead of constitutional referendum
• China: stop ill-treatment of Guo Feixiong
• Assembly & association rights: By the numbers
• Special Rapporteur news in brief: July-August 2016
• World briefing: Assembly & association rights in the news
For a link to the newsletter, click on the image at right or click here (3.4MB file).
To subscribe to our newsletter, please drop us a line at info@freeassembly.net with the subject line "subscribe to newsletter."
For other recent newsletters, see the links below:
The Assembly and Association Briefing, Vol. 3, No. 2 (Issue 19) (Feb.-March 2016)
The Assembly and Association Briefing, Vol. 3, No. 3 (Issue 20) (April 2016)
The Assembly and Association Briefing, Vol. 3, No. 4 (Issue 21) (May-June 2016)
Comments
comments