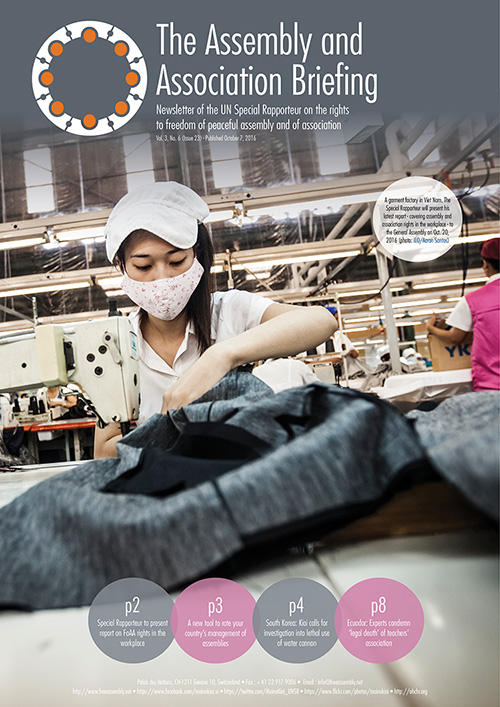 Issue No. 23 of the Assembly and Association Briefing, the newsletter of Maina Kiai, UN Special Rapporteur on the rights to freedom of peaceful assembly and of association.
In this issue:
• Kiai to present final report to UN General Assembly, examining assembly and association rights in the workplace
• The 10 principles checklist: rate your country's management of assemblies
• South Korea: Kiai calls for investigation into lethal use of water cannon
• Jordan: UN rights expert Kaye condemns killing of journalist Nahed Hattar
• Sudan: Charges against rights activists could bring death penalty
• DR Congo: UN experts deeply condemn new violent repression of protests
• Ecuador: UN rights experts condemn 'legal death' of prominent teachers association UNE
• USA: "Indigenous peoples must be consulted prior to pipeline construction"
• Assembly & association rights: By the numbers
• Special Rapporteur news in brief: September-October 2016
• World briefing: Assembly & association rights in the news
For a link to the newsletter, click on the image at right or click here (5MB file).
To subscribe to our newsletter, please drop us a line at info@freeassembly.net with the subject line "subscribe to newsletter."
For other recent newsletters, see the links below:
The Assembly and Association Briefing, Vol. 3, No. 3 (Issue 20) (April 2016)
The Assembly and Association Briefing, Vol. 3, No. 4 (Issue 21) (May-June 2016)
The Assembly and Association Briefing, Vol. 3, No. 5 (Issue 22) (July-August 2016)
Comments
comments