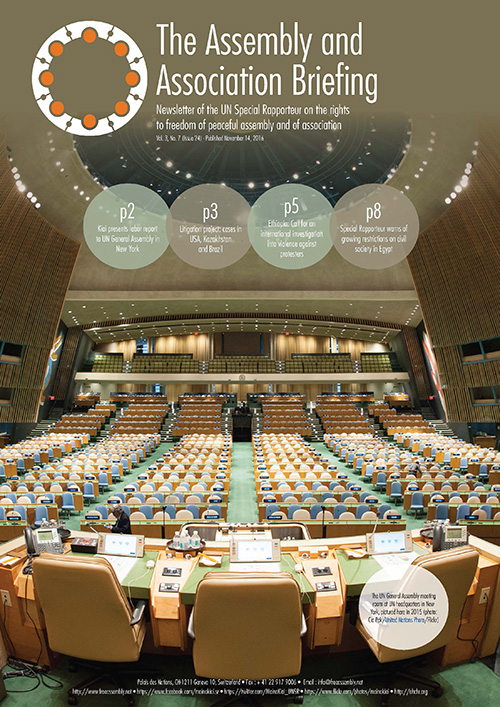 Issue No. 24 of the Assembly and Association Briefing, the newsletter of Maina Kiai, UN Special Rapporteur on the rights to freedom of peaceful assembly and of association.
In this issue:
• In final presentation to UN General Assembly, Special Rapporteur reflects on time in mandate; warns that situation for civil society remains 'precarious'
• Corporate power undermining workers' assembly and association rights, Kiai warns
• Litigation project: Developments in cases in Kazakhstan, Brazil and USA
• UN experts urge India to release prominent Kashmiri human rights defender
• Democratic Republic of Congo: experts urge end to 'unjustified' ban on protests
• Ethiopia: call for international investigation into systematic violence against protesters
• Maina Kiai's Foreword to the Civic Charter: the Framework for People's Participation
• Experts blast Kenya for excessive force against anti-corruption protesters
• Mauritania: UN experts concerned about situation of jailed rights activists
• Egypt NGO law: Special Rapporteur Kiai warns about growing restrictions on civil society
• Iran: UN expert Shaheed calls for the immediate release of dual nationals
• Assembly & association rights: By the numbers
• Special Rapporteur news in brief: October-November 2016
• World briefing: Assembly & association rights in the news
For a link to the newsletter, click on the image at right or click here (2.4MB file).
To subscribe to our newsletter, please drop us a line at info@freeassembly.net with the subject line "subscribe to newsletter."
For other recent newsletters, see the links below:
The Assembly and Association Briefing, Vol. 3, No. 4 (Issue 21) (May-June 2016)
The Assembly and Association Briefing, Vol. 3, No. 5 (Issue 22) (July-August 2016)
The Assembly and Association Briefing, Vol. 3, No. 6 (Issue 23) (September-October 2016)
Comments
comments