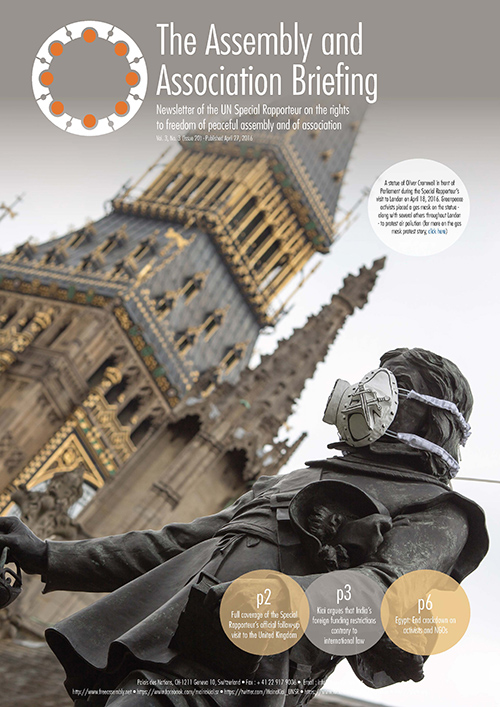 Issue No. 20 of the Assembly and Association Briefing, the newsletter of Maina Kiai, UN Special Rapporteur on the rights to freedom of peaceful assembly and of association.
In this issue:
• Closing space for civil society in the United Kingdom, Special Rapporteur warns after official visit
• India: Special Rapporteur says restrictions on foreign funding contrary to international law
• Honduras: UN experts renew call to end impunity for murder of activists
• UN experts urge Mexico to counter smear campaign and support human rights defenders
• Egypt: end ongoing crackdown on human rights defenders and organizations
• What is permissible when countering terrorism? UN experts welcome new African guidelines
• Freedom of association and assembly: By the numbers
• Special Rapporteur news in brief:  March-April 2016
• World briefing: Freedom of assembly and association in the news
For a link to the newsletter, click on the image at right or click here (1.9MB file) or here (13.6MB full resolution file).
To subscribe to our newsletter, please drop us a line at info@freeassembly.net with the subject line "subscribe to newsletter."
For other recent newsletters, see the links below:
The Assembly and Association Briefing, Vol. 2, No. 8 (Issue 17) (Nov.-Dec. 2015)
The Assembly and Association Briefing, Vol. 3, No. 1 (Issue 18) (Jan. 2016)
The Assembly and Association Briefing, Vol. 3, No. 2 (Issue 19) (Feb.-March 2016)
Comments
comments