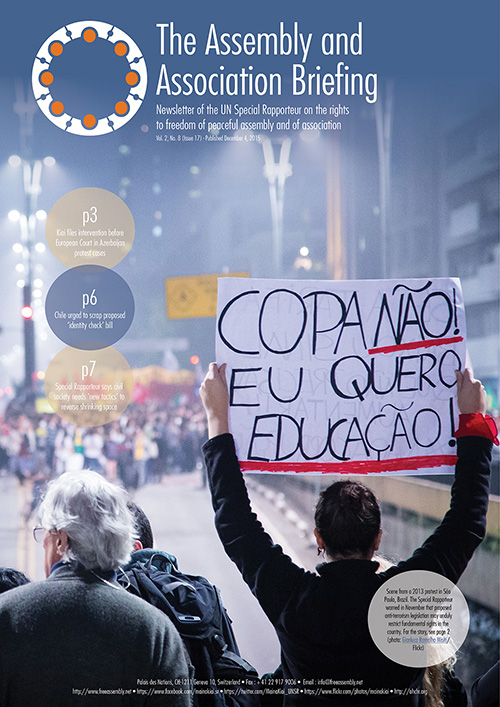 Issue No. 17 of the Assembly and Association Briefing, the newsletter of Maina Kiai, UN Special Rapporteur on the rights to freedom of peaceful assembly and of association.
In this issue:
• UN experts warn that Brazil anti-terrorism law may threaten fundamental freedoms
• Kiai urges European Court to establish "clear and strong standards" on assembly rights
• Burundi: Experts urge Security Council to follow resolution with 'concrete' steps
• Bangladesh NGOs: Kiai warns against proposed funding bill
• Special Rapporteur urges Chile to scrap proposed 'identity check' bill
• High time to protect sexual and reproductive rights defenders in the Americas
• Civil society needs 'new tactics' to reverse shrinking space, Special Rapporteur tells Asia-Pacific activists in Seoul
• Background reports compare laws on businesses and CSOs in 34 states
• Freedom of association and assembly: By the numbers
• Special Rapporteur news in brief: November-December 2015
• World briefing: Freedom of assembly and association in the news
For a link to the newsletter, click on the image at right or click here (4.1MB file) or here (6.8MB full resolution file).
To subscribe to our newsletter, please drop us a line at info@freeassembly.net with the subject line "subscribe to newsletter."
For other recent newsletters, see the links below:
The Assembly and Association Briefing, Vol. 2, No. 5 (Issue 14) (July-Aug. 2015)
The Assembly and Association Briefing, Vol. 2, No. 6 (Issue 15) (Sept. 2015)
The Assembly and Association Briefing, Vol. 2, No. 7 (Issue 16) (Oct. 2015)
Comments
comments