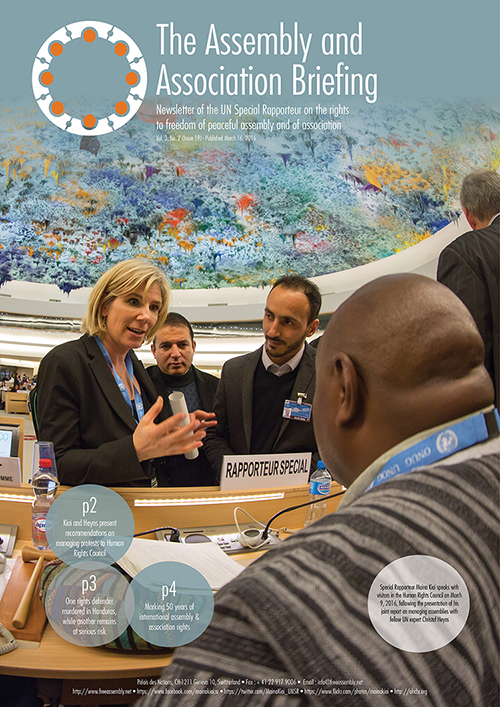 Issue No. 19 of the Assembly and Association Briefing, the newsletter of Maina Kiai, UN Special Rapporteur on the rights to freedom of peaceful assembly and of association.
In this issue:
• UN rapporteurs provide a roadmap to avoid human rights violations during protests
• Human rights defender Berta Cáceres murdered in Honduras; Gustavo Castro Soto remains at risk
• UN experts urge Western Australia not to pass anti-protest law
• #FOAAat50: Celebrating 50 years of human rights through art and social media
• Follow-up visit to the United Kingdom in April 2016
• Next UN General Assembly report to focus on labor issues
• Freedom of association and assembly: By the numbers
• Special Rapporteur news in brief: February – March 2016
• World briefing: Freedom of assembly and association in the news
For a link to the newsletter, click on the image at right or click here (1.9MB file) or here (5.9MB full resolution file).
To subscribe to our newsletter, please drop us a line at info@freeassembly.net with the subject line "subscribe to newsletter."
For other recent newsletters, see the links below:
The Assembly and Association Briefing, Vol. 2, No. 7 (Issue 16) (Oct. 2015)
The Assembly and Association Briefing, Vol. 2, No. 8 (Issue 17) (Nov.-Dec. 2015)
The Assembly and Association Briefing, Vol. 3, No. 1 (Issue 18) (Jan. 2016)
Comments
comments