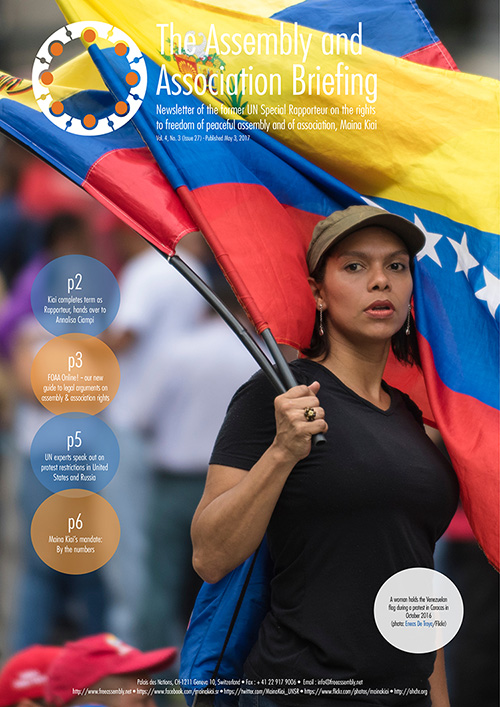 Issue No. 27 of the Assembly and Association Briefing, the newsletter of Maina Kiai, UN Special Rapporteur on the rights to freedom of peaceful assembly and of association.
In this our final issue:
• Kiai completes term as Rapporteur, hands over mandate to Annalisa Ciampi
• A thank you message from former Special Rapporteur Maina Kiai – and news on work yet to come
• Kiai launches FOAA Online! – a web-based collection of legal arguments on assembly and association rights
• Special Rapporteur files interventions in South Africa and Zimbabwe cases
• Venezuela: allow peaceful protests and investigate killing of demonstrators
• UN experts urge Russia to drop Jehovah's Witness lawsuit which threatens religious freedom
• Russia: "Immediately release detained peaceful protesters"
• UN rights experts urge lawmakers to stop "alarming" trend to curb freedom of assembly in the US
• Ahead of referendum, UN experts warn Turkey about impact of purge on rights
• UN experts urge United Arab Emirates: "Immediately release Ahmed Mansoor"
• Belarus: expert decries of violence against protestors, demands release of all detained
• Hungary urged by UN expert to reconsider new law targeting Central European University
• Maina Kiai's Testimony to the Tom Lantos Human Rights Commission
• Maina Kiai's mandate: By the numbers
• Special Rapporteur news in brief: March – April 2017
• World briefing: Assembly & association rights in the news
For a link to the newsletter, click on the image at right or click here (2.4 MB file).
To be added to our mailing list, please drop us a line at info@freeassembly.net with the subject line "subscribe to newsletter."
For other recent newsletters, see the links below:
The Assembly and Association Briefing, Vol. 3, No. 7 (Issue 24) (October-November 2016)
The Assembly and Association Briefing, Vol. 4, No. 1 (Issue 25) (December 2016-January 2017)
The Assembly and Association Briefing, Vol. 4, No. 2 (Issue 26) (February-March 2017)
Comments
comments