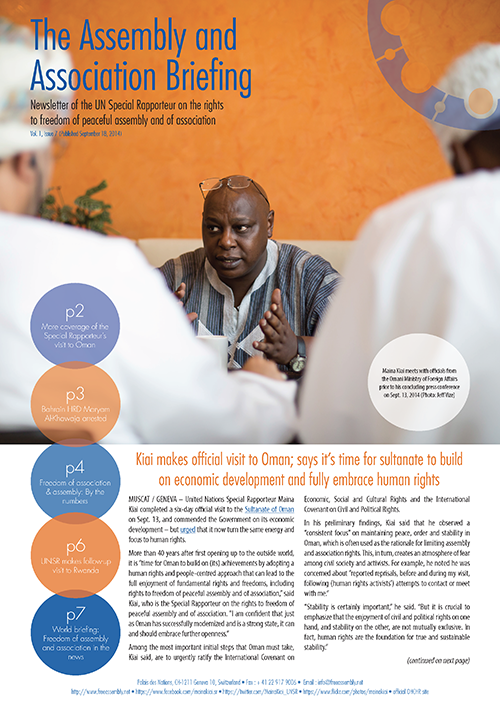 Issue No. 7 of the Assembly and Association Briefing, the newsletter of Maina Kiai, UN Special Rapporteur on the rights to freedom of peaceful assembly and of association.
In this issue:
• Kiai makes official visit to Oman; says it's time for sultanate to build on economic development and fully embrace human rights
• UN experts urge Bahrain to release human rights defender Maryam Al-Khawaja
• Iran: Kiai condemns the recent wave of arrest and sentencing of civil society actors
• UN experts urge Tasmania to drop bill that would limit protests against businesses
• Kiai and others call on the government of Azerbaijan to stop persecution of rights activists
• UNSR makes follow-up visit to Rwanda
• Freedom of association and assembly: By the numbers
• Special rapporteur news in brief: July-September 2014
• World briefing: Freedom of assembly and association in the news
For a link to the newsletter, click on the image at right or click here (3.1MB file) or here (9.5MB full resolution file).
To subscribe to our newsletter, please drop us a line at info@freeassembly.net with the subject line "subscribe to newsletter."
For other recent newsletters, see the links below:
The Assembly and Association Briefing, Vol. 1, Issue 4 (May 2014)
The Assembly and Association Briefing, Vol. 1, Issue 5 (June 2014)
The Assembly and Association Briefing, Vol. 1, Issue 6 (July-August 2014)
Comments
comments