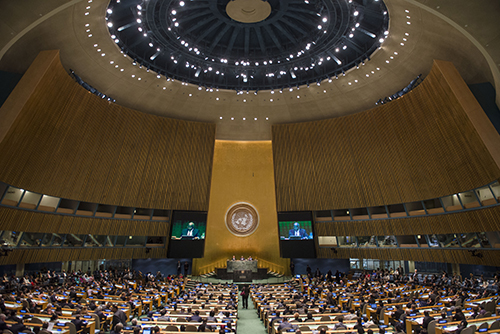 NEW YORK – In today's globalized world, the meaning and practice of democracy stretches beyond national boundaries, United Nations human rights expert Maina Kiai has said today during the presentation of his report to the UN General Assembly on the exercise of the rights of freedom of peaceful assembly and of association at the multilateral level.
"Decisions of multilateral institutions -which represent Governments- have a profound impact on the lives of ordinary people across the globe," the Special Rapporteur on the rights to freedom of peaceful assembly and of association said. "But are these people consulted and given a chance to contribute to issues affecting them? Often, the answer is no."
In his report, Mr. Kiai notes that global governance is increasingly becoming fragmented and diffused among a broad range of multilateral bodies, including the more well-known ones such as the UN and its specialized agencies, and others less well-known or understood, some of which are opaque in their operations.
Actions by multilateral institutions themselves
"Multilateral entities have positive responsibilities to actively protect peaceful assemblies and to establish and maintain an enabling environment for civil society," the independent expert stressed.
However, his report notes that actions by multilateral institutions can have the opposite effect of closing down participation, as in the case of the inter-governmental Financial Action Task Force, created to fight money laundering, terrorist financing and other related threats to the international financial system.
"The demands of the Financial Action Task Force to regulate NGOs to prevent abuse of such organizations for the financing of terrorism have been followed by a wave of new restrictions worldwide on funding for civil society, many of which do nothing to legitimately advance the fight against money laundering and terrorism," Mr. Kiai warned.
The expert further expressed alarm at the extremely high number of reported violations to the right of peacefully assembly during summits of multilateral institutions, as happens regularly with NATO and the G20.
"Multilateral institutions should set comprehensive guidelines on the policing of assemblies rather than delegate this duty to the national authorities where protests occur," Mr. Kiai said. "Moreover, they should not organize major events likely to draw protests in locations where they cannot receive assurances that local authorities have the political will and technical capacity to uphold international standards."
Actions by States working within multilateral institutions
In his report, the expert pointed to an increasing number of cases in which individuals are killed, threated, harassed, tortured, arbitrarily arrested, spied and banned from travelling because they cooperate with multilateral bodies.
"Reprisals are the area of gravest concern," the expert warned. "I welcome the initiatives of States to address reprisals against those interacting in multilateral arenas. But I also believe that more action is needed. Multilateral institutions themselves must react strongly when such reprisals take place, including by intervening in specific cases and publicly condemning the Member State involved."
Mr. Kiai also noted how States obstruct the participation of civil society through the politicization of the NGO Committee, the UN body which recommends NGOs to the UN Economic and Social Council for consultative status.
"The NGO Committee has on several occasions acted in a manner contrary to its purpose by arbitrarily deferring applications for dozens of NGOs, several for many years," the expert highlighted.
A full version of this press release is available in English and Chinese via OHCHR.

Other links:
Transcript of Maina Kiai's statement to the General Assembly
Video of Maina Kiai's statement via the UN (10m 14s) 
Video of the entire Oct. 28 General Assembly session (3h 05m)

The Special Rapporteur's report (in all six official UN languages)
Our multilaterals report factsheet
Comments
comments