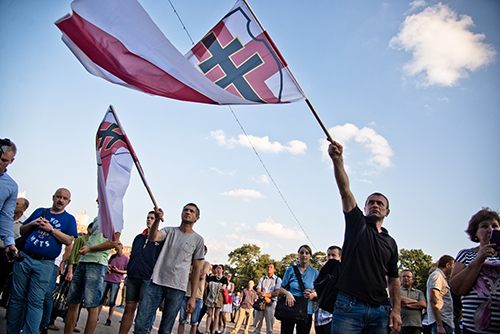 GENEVA – Belarus is being urged by a UN human rights expert to stop acts of violence and harassment against demonstrators and to respect freedom of peaceful assembly.
The appeal comes from the Special Rapporteur on human rights in Belarus, Miklós Haraszti, and follows reports of mass arrests and intimidation of activists protesting against the presidential decree "On the Prevention of Social Dependence", also referred to as the "anti-parasitism" law.
The order by President Lukashenko allows fines to be imposed on anyone who does not work more than 183 days and is not declared officially unemployed. As implementation began last month, thousands of Belarusians have taken to the streets in protest.
Mr. Haraszti described the decree as "an arbitrary and cruel measure", estimated to affect more than 470,000 Belarusians. "These people are not only singled out and stamped as 'society's parasites', but they are subjected to substantial fines amounting to the equivalent of USD250, or about two thirds of the average monthly wage in Belarus."
Following demonstrations held for several weeks in many parts of the country, the President has reportedly suspended the collection of the fines for this year. However, he also stressed that he does not rescind the decree. Additionally, he has vowed that there will be a "tough reaction" against organizers of dissent, and instructed his interior minister to ensure "perfect order" in the country.
​​
Mr. Haraszti said: "I am closely following the situation, as there are credible reports of arrest of at least 70 individuals who were peacefully demonstrating against the decree, as well as of 18 journalists who were covering the events.
"I am particularly vigilant because of the Government's well-known history of over-reacting to public discord. Demonstrations in 2010 were responded to by massive violence and arbitrary arrests, which at that time prompted the international community to create the mandate I have been holding for five years now.
"The recurring pattern in the authorities' violent response makes the situation volatile enough for it to degenerate. The danger of escalation has already partly materialized as several opposition leaders, Anatol Liabedzka and Vital Rymasheuski in particular, have been sentenced to detention for two weeks", Haraszti stressed.
"While the international community should remain attentive, I call on the authorities of Belarus to stop acts of violence and harassment, and to respect the freedom to peacefully assemble," Mr. Haraszti concluded.
This statement has been endorsed by the Chairperson-Rapporteur of the UN Working Group on Arbitrary Detention, Mr Sètondji Roland Adjovi, and by the UN Special Rapporteur on the rights to freedom of peaceful assembly and of association, Mr. Maina Kiai as well as the Special Rapporteur on the situation of human rights defenders, Mr. Michel Forst.
The full press release is available in English via OHCHR.
Comments
comments