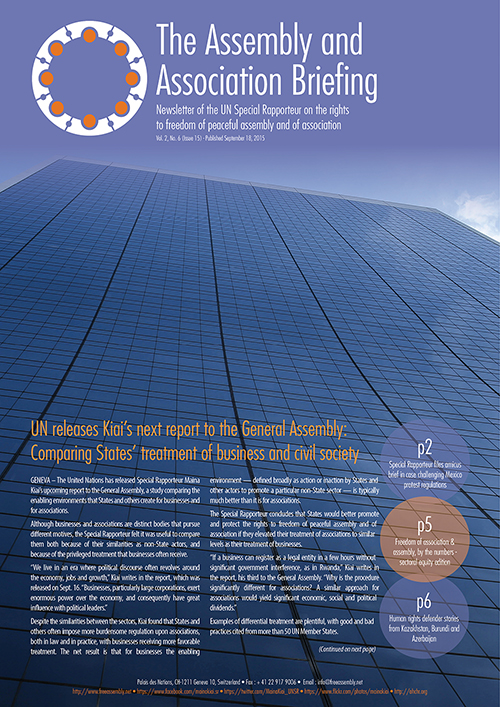 Issue No. 15 of the Assembly and Association Briefing, the newsletter of Maina Kiai, UN Special Rapporteur on the rights to freedom of peaceful assembly and of association.
In this issue:
• UN releases Kiai's next report to the General Assembly: Comparing States' treatment of business and civil society
• Mexico: Special Rapporteur weighs in on case challenging constitutionality of protest laws
• 'Stop the erosion of democracy' – UN experts urge Governments across the world
• Peaceful protest recommendations project: Asia and Africa meetings
• Ecuador: UN and IACHR experts condemn moves to dissolve prominent organization
• Mauritania: UN rights expert urges repeal of NGO Bill that threatens civil society
• Human rights defender stories from Kazakhstan, Burundi and Azerbaijan
• Freedom of association and assembly: By the numbers – sectoral equity edition
• Special Rapporteur news in brief: July-August 2015
• World briefing: Freedom of assembly and association in the news
For a link to the newsletter, click on the image at right or click here (1.5MB file) or here (4.5MB full resolution file).
To subscribe to our newsletter, please drop us a line at info@freeassembly.net with the subject line "subscribe to newsletter."
For other recent newsletters, see the links below:
The Assembly and Association Briefing, Vol. 2, No. 3 (Issue 12) (April-May 2015)
The Assembly and Association Briefing, Vol. 2, No. 4 (Issue 13) (June 2015)
The Assembly and Association Briefing, Vol. 2, No. 5 (Issue 14) (July-Aug. 2015)
Comments
comments