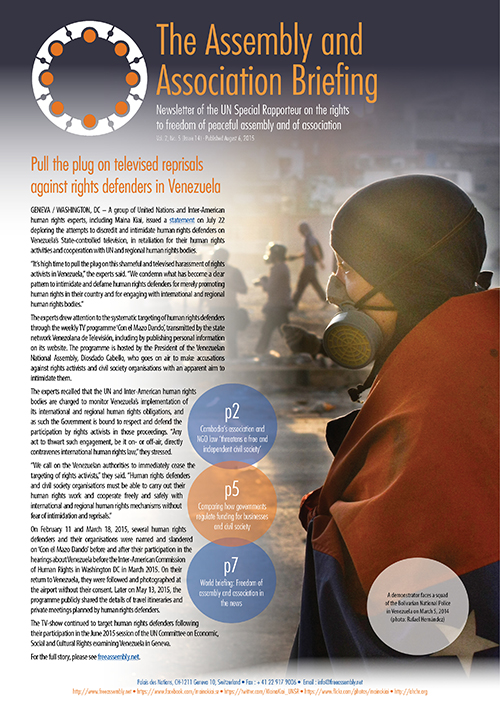 Issue No. 14 of the Assembly and Association Briefing, the newsletter of Maina Kiai, UN Special Rapporteur on the rights to freedom of peaceful assembly and of association.
In this issue:
• Pull the plug on televised reprisals against rights defenders in Venezuela
• 'Cambodia's NGO Bill threatens a free and independent civil society' – UN expert urges Senate to reject it
• Burundi: UN experts call for determined Security Council action to prevent mass violence
• Bahrain: Freed from jail, all charges against Nabeel Rajab must be dropped
• The clamp-down on resourcing: comparing how States regulate business and civil society
• 'Lawyers need to be protected not harassed,' UN experts urge China to halt detentions
• Freedom of association and assembly: By the numbers
• Special Rapporteur news in brief: July-August 2015
• World briefing: Freedom of assembly and association in the news
For a link to the newsletter, click on the image at right or click here (1.6MB file) or here (2.9MB full resolution file).
To subscribe to our newsletter, please drop us a line at info@freeassembly.net with the subject line "subscribe to newsletter."
For other recent newsletters, see the links below:
The Assembly and Association Briefing, Vol. 2, No. 2 (Issue 11) (February-March 2015)
The Assembly and Association Briefing, Vol. 2, No. 3 (Issue 12) (April-May 2015)
The Assembly and Association Briefing, Vol. 2, No. 4 (Issue 13) (June 2015)
Comments
comments