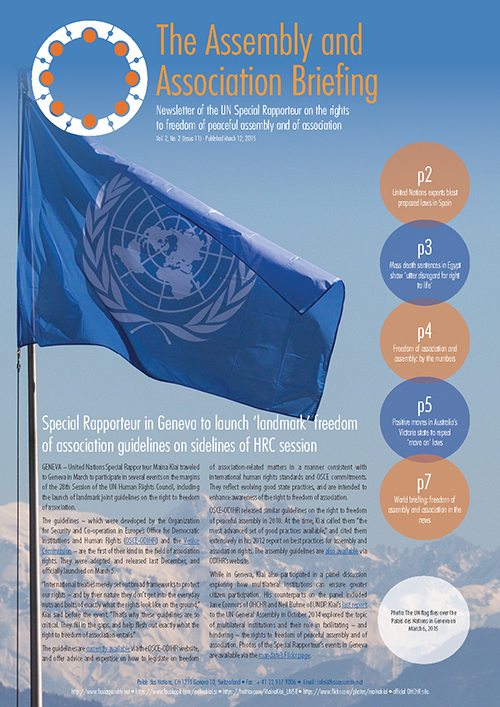 Issue No. 11 of the Assembly and Association Briefing, the newsletter of Maina Kiai, UN Special Rapporteur on the rights to freedom of peaceful assembly and of association.
In this issue:
• Special Rapporteur in Geneva to launch 'landmark' freedom of association guidelines on sidelines of HRC session
• 'Two legal reform projects undermine the rights of assembly and expression in Spain' – UN experts
• Mass death sentences in Egypt a profound disgrace, UN human rights experts say
• UN rights experts urge release of Bahrain opposition politician
• Australia: Special Rapporteur welcomes moves to repeal restrictive laws on protest
• Steering the final two years of Kiai's UNSR mandate
• Freedom of association and assembly: By the numbers
• Special rapporteur news in brief: February-March 2015
• A call to submit cases in the UNSR's litigation project
• World briefing: Freedom of assembly and association in the news
For a link to the newsletter, click on the image at right or click here (1.4MB file) or here (5MB full resolution file).
To subscribe to our newsletter, please drop us a line at info@freeassembly.net with the subject line "subscribe to newsletter."
For other recent newsletters, see the links below:
The Assembly and Association Briefing, Vol. 1, No. 8 (October-November 2014)
The Assembly and Association Briefing, Vol. 1, No. 9 (December 2014)
The Assembly and Association Briefing, Vol. 2, No. 1 (Issue 10) (January 2015)
Comments
comments