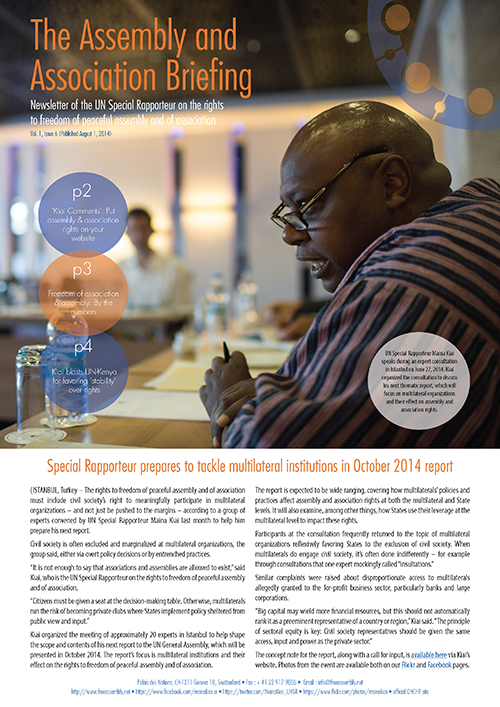 Issue No. 6 of the Assembly and Association Briefing, the newsletter of Maina Kiai, UN Special Rapporteur on the rights to freedom of peaceful assembly and of association.
In this issue:
• Special Rapporteur prepares to tackle multilateral institutions in October 2014 report
• "Kiai Comments" – a new way to support assembly and association rights on your website
• Special Rapporteur: Targeting at-risk groups a reprehensible "divide and conquer" technique
• Egypt: UN Experts "outraged" at confirmation of 183 death sentences
• Maina Kiai in Burundi on unofficial academic visit
• Kiai blasts UN-Kenya for favoring 'stability' over rights
• Freedom of association and assembly: By the numbers
• Special rapporteur news in brief: June and July 2014
• World briefing: Freedom of assembly and association in the news
For a link to the newsletter, click on the image at right or click here (1.4 MB file) or here (7.8 MB full resolution file).
To subscribe to our newsletter, please drop us a line at info@freeassembly.net with the subject line "subscribe to newsletter."
For other recent newsletters, see the links below:
The Assembly and Association Briefing, Vol. 1, Issue 3 (April 2014)
The Assembly and Association Briefing, Vol. 1, Issue 4 (May 2014)
The Assembly and Association Briefing, Vol. 1, Issue 5 (June 2014)
Comments
comments