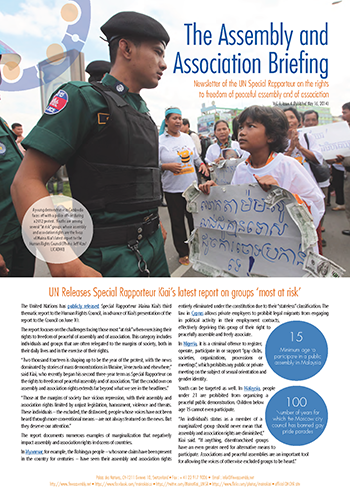 Issue No. 4 of the Assembly and Association Briefing, the newsletter of Maina Kiai, UN Special Rapporteur on the rights to freedom of peaceful assembly and of association.
In this issue:
• UN Releases Special Rapporteur Kiai's latest report on groups 'most at risk'
• Kiai joins UN experts in urging Azerbaijan to drop charges against human rights defenders
• OSCE civil society says 'political will' a major obstacle in protecting right to funding
• Three years after Tunisia: Thoughts on the rights to freedom of assembly and association from Maina Kiai
• Narrowing space in Canada: A video from Maina Kiai
• Freedom of association and assembly: By the numbers
• Special rapporteur news in brief: April and May 2014
• World briefing: Freedom of assembly and association in the news
For a link to the newsletter, click on the image at right or click here (1 MB file) or here (5.3 MB full resolution file).
To subscribe to our newsletter, please drop us a line at info@freeassembly.net with the subject line "subscribe to newsletter."
For other recent newsletters, see the links below:
The Assembly and Association Briefing, Vol. 1, Issue 1 (Jan. 2014)
The Assembly and Association Briefing, Vol. 1, Issue 2 (Feb-March 2014)
The Assembly and Association Briefing, Vol. 1, Issue 3 (April 2014)
Comments
comments