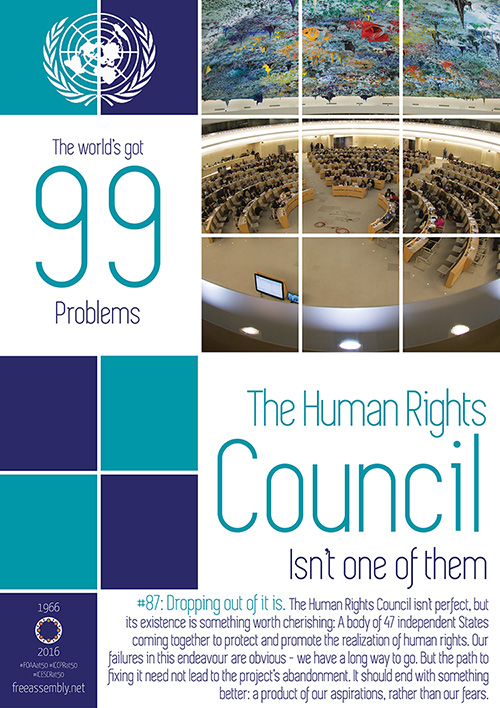 GENEVA – United Nations Special Rapporteur Maina Kiai will be in Geneva March 6-10 to participate in several events surrounding the 34th Session of the UN Human Rights Council. It will be his final appearance on the margins of a Council session as Special Rapporteur.
On Monday, March 6, the Special Rapporteur will moderate a side event on the rights to freedom of peaceful assembly and of association in the workplace, a follow-up to his Oct. 2016 report to the UN General Assembly. Other featured speakers include Kate Gilmore (United Nations Deputy High Commissioner for Human Rights), Deborah Greenfield (ILO's Deputy Director General for Policy), Raquel Gonzalez (Director of ITUC's Geneva Office) and Shawna Bader-Blau (Executive Director of the Solidarity Center).
The event will take place from 12 to 2 pm (Geneva time) in Room XXI of the Palais des Nations, and will be live-streamed on CIVICUS's Facebook page: https://www.facebook.com/CIVICUS/  
The Special Rapporteur will also speak at a side-event on Tuesday, March 7, focusing on civil society and human rights defenders in Azerbaijan. The event, which is being organized by Human Rights House Foundation and a number of other organizations, will be held from 12:30 to 2 pm in Room XII of the Palais des Nations. Other panelists include Michel Forst, UN Special Rapporteur on the situation of human rights defenders, and Azerbaijani activists Emin Huseynov, Khadija Ismayilova, Gulnara Akhundova, and Necmin Kamilsoy.
Other events on the Special Rapporteur's agenda include:
Kiai's second and final term as Special Rapporteur ends on April 30, 2017. His successor will be formally appointed at the conclusion of the Council's March session.
Comments
comments