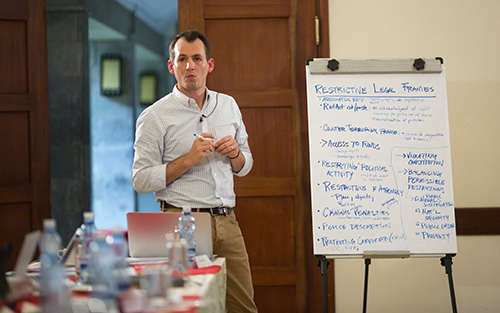 NAIVASHA, Kenya – The push to apply international standards in domestic and regional court cases requires a strategic, coordinated and multipronged approach by lawyers and civil society if it is to succeed, according to participants in a workshop organized this week by UN Special Rapporteur Maina Kiai.
The workshop, which was held Oct. 16-17 in Naivasha, Kenya, gathered nearly 20 lawyers from 11 countries to discuss best practices for litigating cases dealing with the rights to freedom of peaceful assembly and of association. It was the first event in the Special Rapporteur's new project focused on enhancing assembly and association rights through the use of strategic litigation.
The project aims to provide technical assistance and advisory services for public interest litigation on assembly and association issues, with a view to increasing such litigation and encouraging the application of international law norms at the domestic level. The Special Rapporteur also plans to submit amicus briefs in a handful of relevant cases, where he can highlight international norms and principles.
The Special Rapporteur emphasized that project is worldwide in its scope.
"Assembly and association rights are under siege in every region of the world: east and west, north and south," said Kiai, who is the Special Rapporteur on the rights to freedom of peaceful assembly and of association. "It's not a problem limited to developing countries or the Global South."
British lawyers Jules Carey and Harriet Wistrich illustrated Kiai's point by describing a deteriorating situation for assembly and association rights in the United Kingdom, with government surveillance, infiltration of social justice campaign groups and an increasing focus on "public order" over human rights.
"Police in the UK are on the cutting edge of limiting protests," Carey said, describing their focus on being "preemptive and disruptive."
Participants said that intervention by the Special Rapporteur and other international actors could be a useful strategy in helping to litigate key cases, but noted that this approach is not without its pitfalls.
Challenges cited by participants included security concerns for litigants, the perception that international intervention in a case amounts to foreign "meddling, and the fact that some judges and judicial systems may not view international law as especially relevant in domestic cases.
Kabir Dixit, who is handling a case to challenge the foreign contribution regulation act (FCRA) at the Supreme Court of India, noted that it is not always easy to bring international law and standards into Indian courts. While judges in India frequently cite foreign or international case law, Dixit said it is often no more than a "hat tip," with no substantive impact on the case at hand.
A number of participants stressed the need for stronger advocacy work surrounding key cases – in the media and elsewhere – noting that changes in public opinion often spur the evolution of law. Likewise, strongly negative public opinion about a case can often lead to a backlash.
"You can win a case in court, but still lose in the media," one participant said.
One possible strategy, according to Don Deya, a Kenyan lawyer with the Pan African Lawyers Union in Tanzania, is "coordinated action on an issue of interest, across several regions and countries," with out-of-court advocacy being a part of that strategy.
The project, which is being funded by the Norwegian Ministry of Foreign Affairs, will run through the end of Kiai's mandate in 2017.
Photos of the Naivasha workshop are available at the mandate's Flickr page (full set) and on Facebook (selected photos only).
A discussion surrounding strategic litigation of assembly and association rights is available here. The Special Rapporteur welcomes the submission of further information on this topic and the suggestion of specific cases where the mandate could assist.
Comments
comments