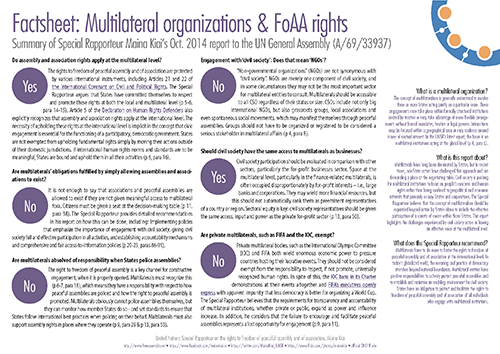 The Special Rapporteur's factsheet summarizing the rights to freedom of peaceful assembly and of association in the context of multilateral organization, presented in an easy-to use "yes/no" format, with hyperlinks to source materials.
This factsheet draws heavily from the Special Rapporteur's 2014 report to the UN General Assembly and features guidance on:
• Multilateral organizations' obligations to uphold assembly and association rights – and what that means in practice
• Multilaterals' responsibilities when member states police assemblies targeted at the multilateral institution itself
• The status of private multilaterals, such as the International Olympic Committee
• Comparative access for business and civil society
• And more
The factsheet also summarizes the report's recommendations and highlights key statistics in a "by the numbers" feature.
For the Special Rapporteur's full factsheet series, please see: http://freeassembly.net/factsheets/
The fact sheet is currently available in the following languages:
All non-English versions are unofficial; translations not verified by the UNSR.