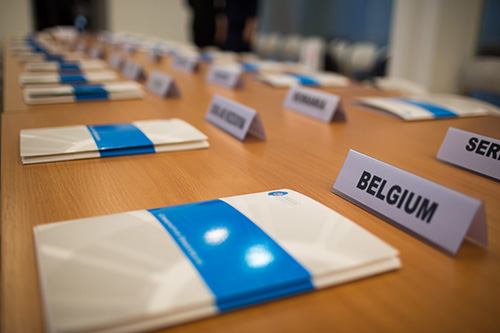 WARSAW, Poland – UN Special Rapporteur Maina Kiai spoke out against shrinking space for peaceful assembly and association rights this week in Warsaw, warning that governments who weaken civil society are "playing with fire, because the alternative … is extremism."
The comments came during an Oct. 22 consultation with Organization for Security and Co-operation in Europe (OSCE)-region governments on civic space and civil society's ability to access resources.
"We are at a very difficult time in the world, and I think it's not accidental that we are seeing extremism rising," said Kiai, who is the Special Rapporteur on the rights to freedom of peaceful assembly and of association. "A government that weakens civil society is playing with fire, because the alternative to peaceful assembly is extremism – and this, no one wishes to achieve."
The regional consultation with OSCE governments was part of an ongoing project on protecting civic space and civil society's right to access resources with the Community of Democracies. A similar consultation hosting OSCE-region civil society groups was convened in May 2014.
More than 20 representatives from OSCE governments attended the consultation. Most expressed broad support for the initiative and spoke of the need to protect civil society's right to seek, receive and utilize resources.
The delegate from Slovenia, for example, read a statement from his government which noted with "concern" that "civil society space is shrinking and that human rights defenders who work to promote the rights of most vulnerable often face serious risk."
"[Civil society's] ability to seek and receive funding is crucial to their existence and functioning," the delegate said.
Delegates from other countries noted, however, that support for civic space was not unanimous within the OSCE region.
"There are countries for which the entire concept of civil society is problematic," Romania's delegate noted.
The Special Rapporteur emphasized that civil society is at a crossroads, facing increasing restrictions in every region of the world. He said that governments need to understand that suppressing civil society is actually counterproductive in terms of promoting not only democracy, but also security and peace.
Photos of the event are available on our Flickr and Facebook pages.
About the project
The UNSR's joint project with the Community of Democracies was launched in February, and is being funded by the Swedish Ministry of Foreign Affairs.
The next regional dialogue – which will focus on civil society in the African region – is scheduled for Nov. 17-18 in Pretoria, South Africa. A total of five regional dialogues that will be held worldwide during 2014-15 as part of the joint UNSR-Community of Democracies project.
A copy of the "General Principles: Protecting Civic Space and the Right to Access Resources" – a reference document drafted by the Community of Democracies and the Special Rapporteur – is available at this link. The document summarizes three general principles under international human rights norms and standards regarding the ability of civil society to seek, receive and use resources. It also provides arguments supporting specific aspects of each principle, with hyperlinks to source documents where relevant.
An infosheet describing the joint UNSR-Community of Democracies project is available here.
Warsaw Dialogue for Democracy
While in Warsaw, the Special Rapporteur also spoke at the Warsaw Dialogue for Democracy (WDD), an event that focused on civil society and the shrinking space for NGOs around the world.
Photos of the WDD event are available on our Flickr and Facebook pages.
Comments
comments