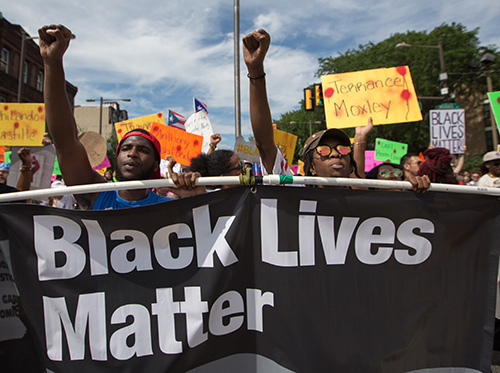 GENEVA / WASHINGTON, DC – The United States of America is struggling to live up to its ideals in the area of racial, social and economic inequality, which is having a negative impact upon the exercise of the rights to freedom of peaceful assembly and of association, United Nations human rights expert Maina Kiai said at the end of his first official fact-finding mission to the country.
The UN Special Rapporteur on the rights to freedom of peaceful assembly and of association singled out race as a particularly pernicious issue. He emphasised that while his mandate does not cover racial discrimination, it was impossible carry out his mission "without issues of racism pervading the discussions."
"Racism and the exclusion, persecution and marginalization that come with it, affect the enabling environment for the exercise of association and assembly rights," Mr. Kiai said, noting that understanding its context means looking back at 400 years of slavery and post-Civil War Jim Crow laws which "enforced segregation and marginalized the African-American community to a life of misery, poverty and persecution."
In more recent times, the Special Rapporteur noted, "old philosophies of exclusion and discrimination were reborn, cloaked in new and euphemistic terms," such as the so-called "War on Drugs" and "three strikes" sentencing policies. The effects of harsh law-and-order policies often snowball, he added, with a minor criminal conviction – or even an arrest at a protest without substantiated charges –making it difficult to find a job, secure a student loan or find a place to live.
"There is justifiable and palpable anger in the black community over these injustices. It needs to be expressed," he stressed. "This is the context that gave birth to the non-violent Black Lives Matter protest movement and the context in which it must be understood."
The independent expert also highlighted a long list of other issues affecting the environment in which association and assembly rights are exercised – including economic inequality, unnecessarily aggressive and militarized policing at some peaceful assemblies, intimidation of activists, lack of accountability for rights violations, permit requirements for protests, disproportionate counter-terrorism measures, increasing corporate power and "a free market fundamentalist culture that actively discourages unionization."
"The situation of migrant workers throughout the United States is characterized by the precariousness and exploitation of their employment situation, retaliation for drawing attention to adverse working conditions and a fear of taking action to seek improvement of the violations," he said.
"Migrant workers are routinely subjected to harassment, intimidation, physical, sexual and psychological abuse, with those attempting to form or belonging to unions and organizations such as the Congress of Day Laborers being targeted for reprisals," the expert noted.
Mr. Kiai also drew attention to the H2B work visa program, which gives employers "immense control over the employee." He called the arrangement "not dissimilar to the Kafala system of bonded labor practiced in a number of countries in the Gulf region."
The independent expert further noted the lack of robust labor rights protections as a major hurdle to exercising the right to freedom of association in the workplace.
"I was shocked to see that in states such as Mississippi, the lack of unionization and ability to exploit workers is touted as a great benefit for employers," he said, citing the situation at a Nissan plant in Canton, MS, as a prime example. "The figure that stands out for me is this: Nissan reportedly operates 44 major plants throughout the world; all of them are unionized, except for two of them in the US south. Why not Mississippi?"
But the Special Rapporteur called the United States a "nation of struggle and resilience," and had high praise the civil society sector, calling it one of the country's greatest strengths and it is something that the United States and its people should be thankful for.
He also noted that people continue to protest despite severe restrictions and harsh crackdowns in some areas, and emphasized the role that the rights to freedom of peaceful assembly and association can play in uniting societies and in healing them.
"People have good reason to be angry and frustrated at the moment," he said. "And it is at times like these when robust promotion of assembly and association rights are needed most. These rights give people a peaceful avenue to speak out, engage in dialogue with their fellow citizens and authorities, air their grievances and hopefully settle them."
During his 17-day visit, Mr. Kiai met numerous officials at the federal, state and local levels and members of civil society. His visit included stops in Washington, New York, Baltimore, Ferguson, MO, Cleveland, Phoenix, New Orleans, Baton Rouge, Jackson, MS, and Philadelphia.
A final report on the visit will be presented to the Human Rights Council in June 2017.
This press release is also available in English via OHCHR.
More on the Special Rapporteur's visit to the United States of America:
Audio of the Special Rapporteur's press conference at the conclusion of his visit
United States of America country page
The Special Rapporteur's full end-of-mission statement
Photos from the Special Rapporteur's visit to the United States of America
Full report on the US country visit (coming June 2017)
Comments
comments