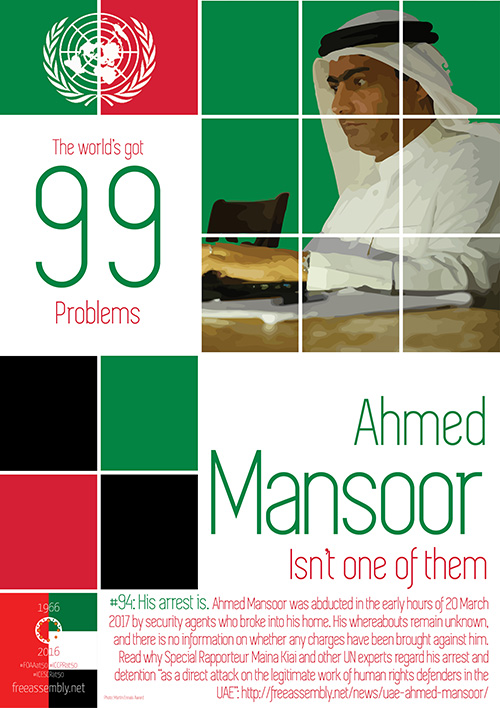 GENEVA – United Nations rights experts are urging the Government of the United Arab Emirates (UAE) to immediately release the renowned human rights defender Ahmed Mansoor, who was arrested last week.
Mr. Mansoor, who is 47 and married with four children, was taken away in the early hours of 20 March by security agents who broke into his home. His whereabouts remain unknown, and there is no information on whether any charges have been brought against him.
"We regard Mr. Mansoor's arrest and detention as a direct attack on the legitimate work of human rights defenders in the UAE," the experts said.  "Mr. Mansoor's outstanding work in the protection of human rights and the advancement of democracy, as well as his transparent collaboration with UN mechanisms, is of great value not only for the UAE but for the whole region," they emphasized.
"We fear that his arrest and secret detention may constitute an act of reprisal for his engagement with UN human rights mechanisms, for the views he expressed on social media, including Twitter, as well as for being an active member of organizations such as the Gulf Centre for Human Rights, and an active supporter of others, including Human Rights Watch."
The experts urged the authorities to immediately reveal the whereabouts of Mr. Mansoor, a recent winner of the Martin Ennals Prize for human rights, stressing that secret detention is a form of enforced disappearance. They also gave a warning that "the fact that Mr. Mansoor is being held in an unknown location puts him at serious risk of ill treatment and torture."
They stressed that: "The lack of an arrest warrant or any judicial oversight of his arrest and detention, represents a breach of fundamental principles of due process under international human rights law."
The UN rights experts are also urging the Emirati authorities to end the harassment and intimidation of human rights defenders in the UAE, and to respect the right of everyone to freedom of opinion and expression, including on social media and the internet.
The UN rights experts: The Working Group on Arbitrary Detention;  Arbitrary Detention; The Working Group on Enforced or Involuntary Disappearances; Mr. Michel Forst, Special Rapporteur on the situation of human rights defenders; Mr. David Kaye, Special Rapporteur on the promotion and protection of the right to freedom of opinion and expression and Mr. Maina Kiai, Special Rapporteur on freedom of peaceful assembly and association.
The full press release is available in English via OHCHR.
Comments
comments