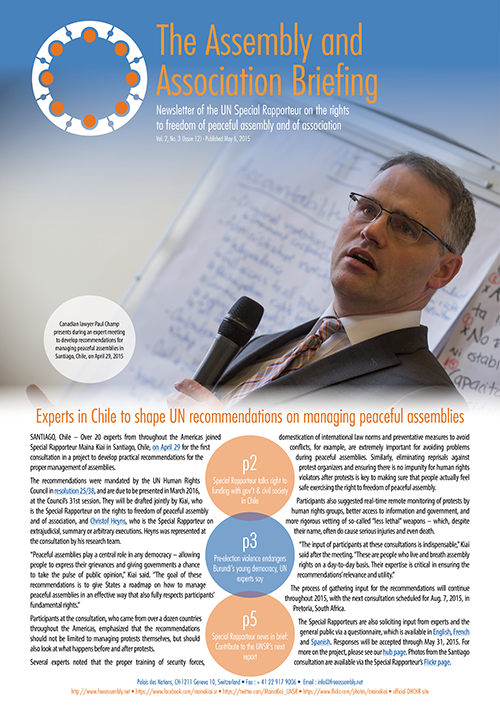 Issue No. 12 of the Assembly and Association Briefing, the newsletter of Maina Kiai, UN Special Rapporteur on the rights to freedom of peaceful assembly and of association.
In this issue:
• Experts in Chile to shape UN recommendations on managing peaceful assemblies
• Vibrant civil society fundamental to Latin America's successes thus far – and equally important going forward, Kiai says in Chile
• UN experts: continued detention of Ethiopian journalists unacceptable
• Pre-election violence endangers Burundi's young democracy
• Contribute to the UNSR's next report on "sectoral equity"
• Freedom of association and assembly: By the numbers
• Special rapporteur news in brief: March-April 2015
• World briefing: Freedom of assembly and association in the news
For a link to the newsletter, click on the image at right or click here (2.3MB file) or here (13MB full resolution file).
To subscribe to our newsletter, please drop us a line at info@freeassembly.net with the subject line "subscribe to newsletter."
For other recent newsletters, see the links below:
The Assembly and Association Briefing, Vol. 1, No. 9 (December 2014)
The Assembly and Association Briefing, Vol. 2, No. 1 (Issue 10) (January 2015)
The Assembly and Association Briefing, Vol. 2, No. 2 (Issue 11) (February-March 2015)
Comments
comments