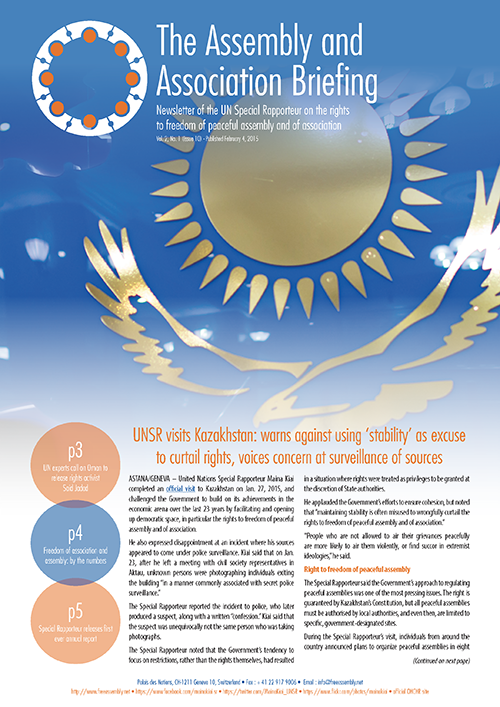 Issue No. 10 of the Assembly and Association Briefing, the newsletter of Maina Kiai, UN Special Rapporteur on the rights to freedom of peaceful assembly and of association.
In this issue:
• Full coverage of the Special Rapporteur's visit to Kazakhstan
• Oman: UN experts call for the immediate release of activist Said Jadad, as reprisals continue unchecked
• Lao: Two years later, Sombath Somphone still missing
• Bahrain: Kiai joins call to drop charges against women activists for government criticism
• UNSR releases first-ever annual report recapping 2014
• Freedom of association and assembly: By the numbers
• Special rapporteur news in brief: December 2014 – January 2015
• World briefing: Freedom of assembly and association in the news
For a link to the newsletter, click on the image at right or click here (1.5MB file) or here (6.5MB full resolution file).
To subscribe to our newsletter, please drop us a line at info@freeassembly.net with the subject line "subscribe to newsletter."
For other recent newsletters, see the links below:
The Assembly and Association Briefing, Vol. 1, No. 7 (September 2014)
The Assembly and Association Briefing, Vol. 1, No. 8 (October-November 2014)
The Assembly and Association Briefing, Vol. 1, No. 9 (December 2014)
Comments
comments