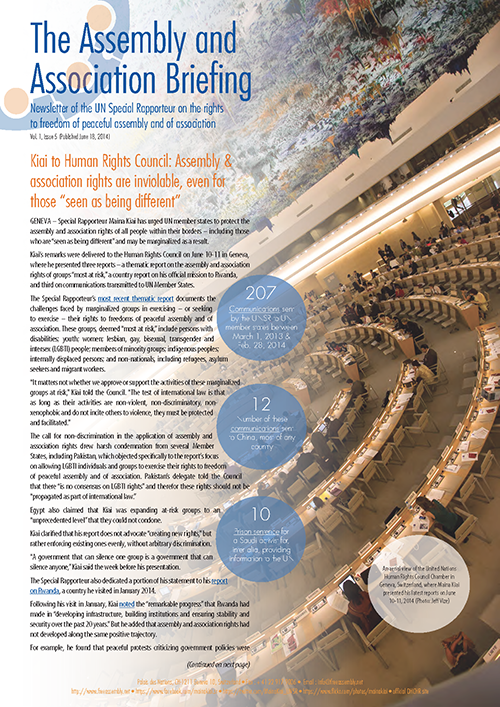 Issue No. 5 of the Assembly and Association Briefing, the newsletter of Maina Kiai, UN Special Rapporteur on the rights to freedom of peaceful assembly and of association.
In this issue:
• Kiai tells Human Rights Council: Assembly & association rights are inviolable, even for those "seen as being different"
• Syria: Door remains wide open for further atrocities after lack of referral to the ICC, UN experts warn
• UNSR & Community of Democracies release general principles on protecting right to access resources
• Kiai joins joint statement to mark international day against homophobia
• "Fundamental rights at stake in Thailand" – UN experts concerned about arbitrary detentions and restrictions
• Special Rapporteur Kiai to convene expert meeting in Istanbul for next report
• Freedom of association and assembly: By the numbers
• Special rapporteur news in brief: May and June 2014
• World briefing: Freedom of assembly and association in the news
For a link to the newsletter, click on the image at right or click here (1.8 MB file) or here (6.7 MB full resolution file).
To subscribe to our newsletter, please drop us a line at info@freeassembly.net with the subject line "subscribe to newsletter."
For other recent newsletters, see the links below:
The Assembly and Association Briefing, Vol. 1, Issue 2 (Feb-March 2014)
The Assembly and Association Briefing, Vol. 1, Issue 3 (April 2014)
The Assembly and Association Briefing, Vol. 1, Issue 4 (May 2014)
Comments
comments