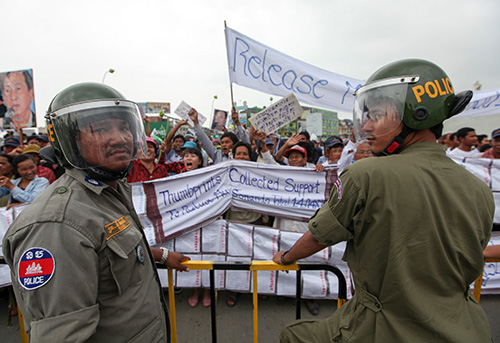 (NAIROBI/PRETORIA) – UN Special Rapporteurs Maina Kiai and Christof Heyns have embarked on a new joint project aimed at compiling a set of practical recommendations for the proper management of assemblies worldwide.
Public assemblies are a central feature of the modern world but often boil over and lead to bloodshed. Societies are often not sure how best to deal with such protests and the United Nations Human Rights Council wants to provide guidance in this regard.
The project – which was mandated by Human Rights Council Resolution 25/38 in 2014 – will run throughout 2015, with the final report being presented to the Human Rights Council at its 31st session in March 2016.
The recommendations will be drafted jointly by Kiai, the Special Rapporteur on the rights to freedom of peaceful assembly and of association, and Heyns, who serves as the Special Rapporteur on extrajudicial, summary or arbitrary executions. In developing the recommendations, the two UN experts will convene a series of regional consultations in 2015 to gather information on best practices and lessons learned. Input will also be sought via a detailed questionnaire that will be distributed to UN Member States, UN agencies, civil society, intergovernmental organizations, other Special Rapporteurs, and national human rights institutions, among others.
The experts also plan to establish a special advisory panel composed of prominent human rights experts to provide advice for the duration of the project.
In developing the practical recommendations, the Special Rapporteurs will focus on the entire spectrum of issues pertaining to the management of assemblies by breaking it down to the phases before, during and after an assembly.
"The world has in recent years seen a substantial increase in public demonstrations. This often leads to important social changes, but in some cases also results in violence that could have been prevented, if the situation were managed differently. And in some cases legitimate protest is repressed," Heyns said. "The call from the Human Rights Council for us to submit this report is a great opportunity to stand back and to compare experiences from around the world, to see how all parties – law enforcement officials, those participating in demonstrations, and political and other leaders – can handle such situations in ways that meet the legitimate concerns of all parties."
The first expert consultation – covering the Americas – is expected to take place in Santiago, Chile, in late April. Subsequent consultations are tentatively planned for the African and Eurasian regions, with a final wrap-up meeting to be held in Geneva in late 2015.
"The ability to hold peaceful protests lies at the heart of any democracy," Kiai said. "This is not a right that governments should fear – it is one they should embrace as a legitimate expression of the public pulse. These guidelines will serve as a roadmap on how they can do this."
A special hub page for the project has been set up at the website for Maina Kiai's mandate, freeassembly.net. It will feature the latest news and information on the project, and is accessible via this link: http://freeassembly.net/peacefulprotests.
The public is also invited to participate in this process by answering the questionnaire, which is available in English, French and Spanish at the project hub page.
Comments
comments