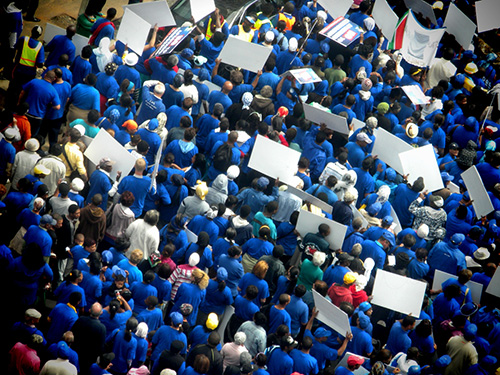 NAIROBI/CAPE TOWN – The notification provisions of South Africa's Gatherings Act constitute "illegitimate" restrictions on the right to freedom of peaceful assembly, according to a brief filed by Special Rapporteur Maina Kiai before a court in Cape Town.
The amicus curiae brief was filed on 31 March 2017 in the appeal of Phumeza Mlungwana, et. al vs. the State, which concerns the constitutionality of section 12(1)(a) of the Regulation of Gatherings Act 205 of 1993. The act imposes criminal sanctions on any person who convenes a gathering of more than 15 people without notifying the relevant authority. Sanctions can also be imposed for "inadequate" notification.
The case arose from a peaceful protest at the Cape Town Civic Centre on 11 September 2013. Police arrested 21 people and charged them under section 12(1)(a) of the Gatherings Act for convening a gathering without providing notice to the relevant municipal authority. The 10 individuals who filed the appeal were convicted on 11 February 2015.
In his brief, the Special Rapporteur notes that State authorities are permitted to request notification for assemblies in order to fulfill their positive obligation to facilitate such assemblies. But this should not be construed as a permission requirement, he added. Thus, the imposition of criminal sanctions on participants who fail to give notification is an impermissible restriction of the right to assemble.
Kiai said the use of sanctions against individuals solely for organizing a peaceful demonstration with more than 15 people "does not serve a legitimate aim, nor is it necessary in a democratic society and it is disproportionate."
"When no other punishable behaviour is involved, sanctioning the mere non-notification of a peaceful assembly means de facto that the exercise of the right to freedom of peaceful assembly is penalized," he wrote. "The use of definitions of crimes or penalties, including administrative fines, that essentially criminalise the exercise of the right to freedom of peaceful assembly … have no place in the State law of a democratic society."
The full brief is available here.
The case (No. A431/15) was filed in the High Court of South Africa, Western Cape Division, Cape Town.
Update Jan. 25, 2018: The Western Cape High Court issued its decision in this case, and struck down as unconstitutional the criminal offense under the Regulation of Gatherings Act. The full decision is available here.
In essence, the court found that the notification requirement creates a chilling effect on freedom of expression and the right to freedom of peaceful assembly.
In its decision, the court made extensive reference to international court decisions and authorities cited in the amicus brief filed by Maina Kiai and others (see, e.g., paragraphs 41, 42, 60-69).
Comments
comments