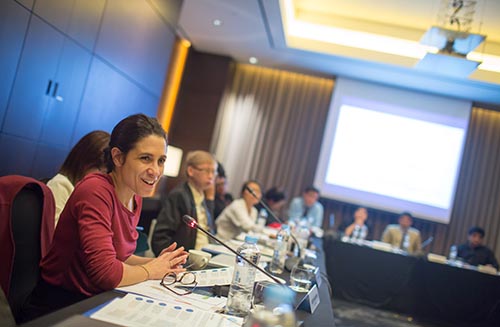 SEOUL, REPUBLIC OF KOREA – Civil society must pursue "new tactics and strategies" if it hopes to reverse the trend of shrinking civic space, Special Rapporteur Maina Kiai told a gathering of activists in Seoul on Nov. 5.
"Governments have been clever" at conjuring new ways to restrict the operations of critical organizations, especially those working on human rights, he said. "The old methods aren't working. Maybe it's time for us to think of new ways to push this agenda. We need to think outside the box."
The UN expert's remarks came during a consultation with civil society from the Asia-Pacific region, which was convened as part of a joint project on civic space between Kiai's mandate and the Community of Democracies. The project focuses particularly on civil society's right to access resources, and aims to expand the body of knowledge on this subject while hearing about challenges that activists face.
Nearly 20 civil society leaders from 14 countries across the region attended in the consultation. Ambassador Maria Leissner, Secretary General of the Community of Democracies, opened the meeting.
Participants said that restrictions on civic space in Asia have accelerated in recent years, with governments taking escalating measures to silencing dissenting voices. In countries such as India, restrictions have targeted civil society's ability to access resources, particularly foreign funding. In others, such as Malaysia, Thailand and China, regulations have centered on limiting activities and operations. In virtually every country, however, organizations working on human rights, democracy and accountability tend to face tighter controls.
"There's a common trend: States are scared of civil society," Kiai said. "It is clear that if you're doing human rights work, you are going to get in trouble. What we're seeing is the state creating new ways for us to get in trouble."
Participants also discussed how donor policies sometimes unwittingly contribute to the restriction of civic space.
In some countries, for example, donors urged "engagement" with the government, even for organizations performing watchdog functions. This is not always feasible or productive in some contexts, participants said. Others complained that donors required aid recipients be registered legal entities – which is not always an option in more repressive countries.
Still more criticized complex reporting requirements and an unproductive focus on short-term results, which disfavor small organizations and those working on human rights. The net effect of these policies is that more "professionalized" organizations are favored, at the expense of grassroots groups.
While in Seoul, the Special Rapporteur also participated in the World Movement for Democracy's Eighth Assembly on Nov. 1-4. At the Assembly, Kiai and his team convened a consultation on developing new communications tools for the mandate.
Photos of both the World Movement and Community of Democracies consultations are available via our Flickr page.
A follow-up meeting on civic space in the Asia region will be held with governmental representatives in January 2016.
About the project
The Special Rapporteur's joint project with the Community of Democracies was launched in February 2014, and is being funded by the Swedish Ministry of Foreign Affairs. For more details about the project and past regional consultations, please see our civic space hub page at http://freassembly.net/civic-space
To learn more about civil society's right to access resources, see the "General Principles: Protecting Civic Space and the Right to Access Resources" – a reference document drafted by the Community of Democracies and the mandate of the Special Rapporteur.
Comments
comments