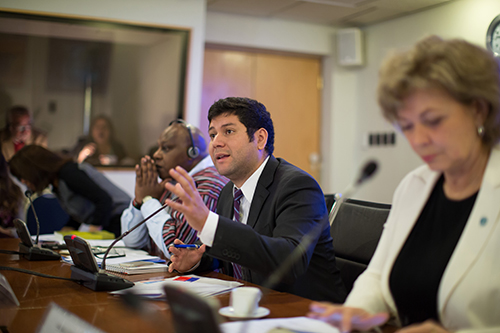 SANTIAGO, Chile – UN Special Rapporteur Maina Kiai met with regional government and civil society leaders here this week, telling them that civil society is "necessary in any society" – and that access to resources is equally essential for the sector's very existence.
"Not a single country in Latin America that can say it accomplished what it has without the help of civil society," said Kiai, who is the Special Rapporteur on the rights to freedom of peaceful assembly and of association. "And it is equally important going forward."
"Civil society is critical in combatting extremism, and in channeling dissent and frustrations in a legitimate way through the system. Civil society gives States a legitimate and open partner that it can work with, and it channels people's views in an open and transparent way."
The UN expert's remarks came during meetings with government officials and civil society members from the Latin America and Caribbean regions, which were convened as part of a joint project with the Community of Democracies designed to strengthen civil society's ability to access to resources. Roughly a dozen representatives from across the region participated in the government consultation on April 27, while more than 25 civil society representatives attended a separate meeting on April 28.
In both consultations, the Special Rapporteur and Community of Democracies Secretary General Maria Leissner highlighted a growing trend toward cracking down on civil society by cutting off its access to funds. The trend is worldwide, Leissner said, and participants in the civil society consultation noted that it affects Latin America, as well.
Venezuela, for example, targets nongovernmental organizations (NGOs) dedicated to the "defense of political rights" or "other political objectives" and precludes these organizations from possessing assets, or receiving any income, from foreign sources.
The president of Ecuador in July 2011 issued a decree prohibiting registered international civil society organizations from receiving funding from bilateral and multilateral sources for their activities in Ecuador. Bolivia's Supreme Decree No. 29308, meanwhile, bans foreign assistance that carries "implied political or ideological conditions".
Kiai and Leissner repeatedly highlighted that the right to access resources is an integral part of Article 22 of the International Covenant on Civil and Political Rights (ICCPR) – which concerns the right to freedom of association – and is not a "new right." This interpretation has been affirmed by the UN Human Rights Committee and reiterated in a number of international human rights instruments, such as the Declaration on Human Rights Defenders.
"All associations need resources to function – whether it's a chess board for your chess club or funds to pay staff of an NGO," Kiai said. "If you don't have resources, the right to form associations is basically taken away."
Thus, Kiai said, any restrictions on the right to funding must meet the strict tests of "necessity" and "proportionality" set forth in Article 22 of the ICCPR. Many of the rationales that States put forward for restrictions do not meet these tests – particularly with regard to foreign funding. The suggestion that Governments can restrict civil society's access to foreign funding to protect the State's "sovereignty," for example, "is not considered a legitimate restriction under the ICCPR," Kiai said.
"If a government uses the state sovereignty argument against civil society, why don't they also use it against themselves?" the Special Rapporteur asked. "States receive lots of foreign funds."
"There is not a single country today that can survive without foreign funding," he added. "We're in an interconnected world where foreign funding is part of our lives."
The meetings were organized with the assistance of the Government of Chile, which is a member of the Community of Democracy's Governing Council.
Photos of the event are available on our Flickr page.
About the project
The UNSR's joint project with the Community of Democracies was launched in February 2014, and is being funded by the Swedish Ministry of Foreign Affairs. Further regional dialogues are scheduled later in 2015 for the Middle East/North Africa region and for Asia.
For more details about the project and past consultations please see our civic space hub page at http://freassembly.net/civic-space
To learn more about civil society's right to access resources, see the "General Principles: Protecting Civic Space and the Right to Access Resources" – a reference document drafted by the Community of Democracies and the Special Rapporteur.
Comments
comments