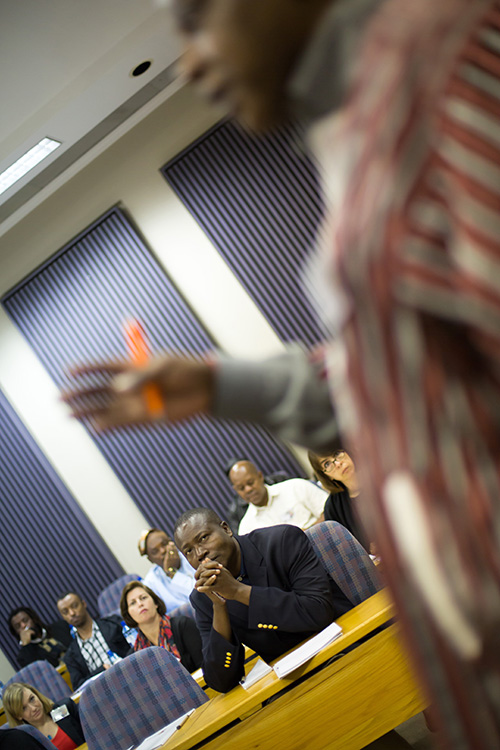 PRETORIA, South Africa – Overcoming the current wave of government efforts to silence peaceful activists across the globe is "the great challenge of our time," UN Special Rapporteur Maina Kiai told African civil society leaders this week.
Civil society, donors and activists "must do better" in order to address this challenge, Kiai said, including by becoming more creative in how they confront restrictions on their fundamental rights to freedom of peaceful assembly and of association. He focused particularly on donors, whom he said often utilize dated and inappropriate benchmarks to measure civil society's work.
"Donors need to be more flexible in funding human rights work," Kiai told participants. "Some want results in six months, but you don't get that with human rights work. That's not the way human rights works."
Kiai's remarks came during a two-day conference in Pretoria on protecting civic space, organized by the International Center for Not-for-Profit Law, CIVICUS, the Community of Democracies and the Special Rapporteur's office. The event brought together civil society leaders from 14 countries, and served as the African regional dialogue in the joint Special Rapporteur-Community of Democracies project on civic space and the right to access resources, which began earlier this year.
The workshop focused on three key areas, including constraints on freedom of assembly and expression, coalition building and advocacy, and access to resources. Participants collectively identified obstacles to their work, shared experiences and best practices, and identified priority issues looking forward.
Ambassador Maria Leissner, Secretary General of the Community of Democracies, expressed her solidarity with civil society activists in Africa and around the world working to address the "international disease" of restricting civil society.
She emphasized that this is not a "West versus the rest" issue, but rather a global conflict between "democrats and crooks; governments that have asked their people for their mandates through elections and those that seek to hold power by any means."
The government portion of the Special Rapporteur-Community of Democracies Africa regional dialogue is planned for sometime in 2015.
Photos of the event are available on our Flickr and Facebook pages.
See also:
Final communiqué from the conference
Final report on the conference (published April 2015)
About the project
The UNSR's joint project with the Community of Democracies was launched in February, and is being funded by the Swedish Ministry of Foreign Affairs.
The next regional dialogue – which will focus on civil society in the Latin America and Caribbean region – is scheduled for April 27-28 in Santiago, Chile. A total of five regional dialogues that will be held worldwide during 2014-15 as part of the joint UNSR-Community of Democracies project.
A copy of the "General Principles: Protecting Civic Space and the Right to Access Resources" – a reference document drafted by the Community of Democracies and the Special Rapporteur – is available at this link. The document summarizes three general principles under international human rights norms and standards regarding the ability of civil society to seek, receive and use resources. It also provides arguments supporting specific aspects of each principle, with hyperlinks to source documents where relevant.
See also:
Infosheet describing the joint UNSR-Community of Democracies project
Hub page for the UNSR-Community of Democracies project
Comments
comments