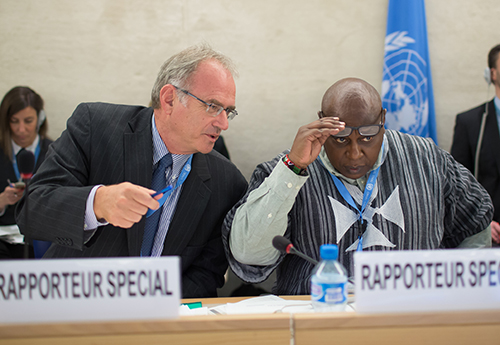 GENEVA –  Two United Nations human rights experts presented today a new report to the UN Human Rights Council offering extensive recommendations to States and police forces around the world on how best to manage public gatherings.
"The proper management of assemblies can in many cases serve to prevent an escalation of the situation and the eventual outbreak of violence. We believe that proper precautions and preparations can help to protect the rights of all concerned – the demonstrators, bystanders and the police," said the Special Rapporteur on extrajudicial, summary or arbitrary executions, Christof Heyns, and the Special Rapporteur on the rights to freedom of peaceful assembly and of association, Maina Kiai.
The report is the result of consultations with more than 50 States and 100 experts from civil society, academia, protest groups, national human rights institutions and police forces. "Our many conversations with States and experts confirmed that the ability to meet and act collectively is vital to democratic development and to the expression of ideas," Mr. Kiai said.
"Human rights are often violated in the context of assemblies, sometimes unintentionally. These recommendations are aimed at providing all involved with a common frame of reference of how this world-wide form of expression should be approached. In many cases the proper management of assemblies can prevent it from escalating out of control," added Mr. Heyns
The recommendations touch on all aspects of the management of assemblies, including: notification procedures and permissible limitations of the right to freedom of peaceful assembly; the State obligation to facilitate assemblies; the policing of assemblies including the use of force and surveillance; the monitoring and recording of assemblies; access to information; and accountability.
"Assemblies can play a vital role in the protection and fulfillment of human rights," the experts recalled. "They should not be viewed or treated as a threat, but rather as a means of dialogue in which the State should engage."
The Special Rapporteurs emphasized the broad range of rights impacted in the context of assemblies, and the State's obligation not only to protect, but also facilitate, the exercise of these rights. Consequently, the report states, no assembly should be considered 'unprotected'.
"This is the first time the Council has requested that two mandates jointly compile recommendations on the management of assemblies – which is indicative of the pressing need for guidance on this topic," Mr. Heyns concluded.
A full transcript of Maina Kiai and Christof Heyns' statement to the Human Rights Council is available at this link (English only).

The full version of this press release is available via OHCHR in English and Spanish.

Other links:
Factsheet summarizing the report's findings
Video of the Human Rights Council Session (via UNTV) – Part 1 and Part 2

Photos of the Special Rapporteur at the Human Rights Council
Photos of the Special Rapporteur's side events at the Human Rights Council
Comments
comments