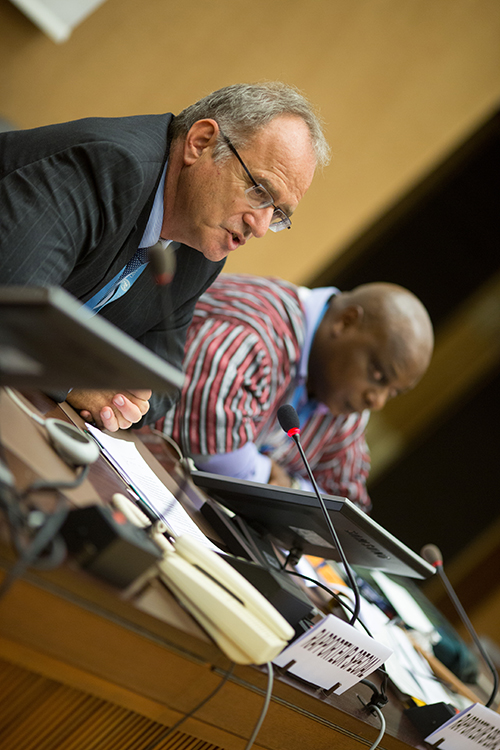 GENEVA – Special Rapporteurs Christof Heyns and Maina Kiai have held three final consultations in Geneva on their joint project to develop practical recommendations for the proper management of assemblies, as requested by the Human Rights Council in resolution 25/38.
Heyns, who is the Special Rapporteur on extrajudicial, summary or arbitrary executions, and Kiai, the Special Rapporteur on the rights to freedom of peaceful assembly and of association, are scheduled to present the recommendations to the Council at its 31st session in March 2016.
On October 22, the Special Rapporteurs met with representatives of Member States to provide an opportunity for the exchange of perspectives and experiences on the proper management of assemblies, and to raise issues of specific interest or concern with the Special Rapporteurs. Representatives of 54 States attended the meeting.
This was followed on October 23 by a consultation with experts from across Europe and Central Asia. The consultation brought together experts from a range of backgrounds, including serving and retired law enforcement officers, UN bodies, academics, members of civil society, and representatives of NHRIs and ombudsmen. The meeting addressed a broad range of issues relating to the management of assemblies, including the importance of cooperation and communication between authorities, law enforcement, and assembly organizers and participants, the ways in which the principle of precaution and prevention can be implemented, and the suitability of various tactics in the policing of assemblies.
"A broad range of rights are relevant to and require protection in the context of assemblies. This process has provided us with the opportunity to develop recommendations to better ensure the protection of all rights involved," said Heyns.
The October 23 meeting was the final regional expert consultation in a series of four, with consultations held earlier this year with experts from the Asia Pacific region (in Istanbul, Turkey, in August), Africa and the Middle East (in Pretoria, South Africa, in August) and the Americas (in Santiago, Chile, in April). The consultation process has also included parallel meetings with State representatives, and a comprehensive questionnaire.
"The consultation process has been absolutely crucial in our development of the guidelines, allowing us to draw on the collective experience and wisdom of experts around the world," said Kiai.
On October 24, the Special Rapporteurs met with the Advisory Panel, which was convened to provide guidance throughout the course of the project. The Advisory Panel reviewed the progress of the project, and offered advice on issues of interest raised by the Special Rapporteurs.
The conclusion of these meetings brings to a close the formal consultation phase of the project, in advance of the presentation of the final report to the Human Rights Council in March 2016. However, the Special Rapporteurs remain receptive to submissions from States and civil society, which may be of interest or assistance during the drafting process.
For more on the project, please see our hub page.
Comments
comments