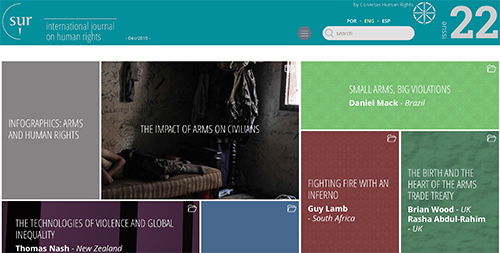 UN Special Rapporteur Maina Kiai has authored a piece on his mandate's litigation project for the latest edition of Sur, the international journal of human rights journal published by Conectas.
The piece appears in Sur issue 22, and gives an overview of the litigation project and the cases it has handled thus far. Launched in 2014, the litigation project focuses on providing technical assistance and advisory services for public interest litigation on assembly and association issues. The aim of the project is to increase such litigation and encourage the application of international law norms at the domestic level.
The Special Rapporteur has also submitted three amicus briefs in cases relevant to the rights to freedom of peaceful assembly and of association.
"Litigation does present advantages unique among rights-promotion tools," Kiai writes in the Sur piece. "When used in the right context, for example, it can ensure concrete remedies: accountability, compensation and some closure. Litigation can also shine a light on repression by forcing the government to address issues head-on in a public setting, whether through written procedures or open hearings. Independent courts and strong rulings can provide backing for activists, halt abuses and command societal change."
The essay provides an in-depth look at the issues involved in the first case in which the Special Rapporteur filed an intervention: A challenge to NGO regulations pending before the Constitutional Court of Bolivia. A decision on that case is expected in 2016.
The Special Rapporteur's article is available in English, Spanish and Portuguese via the Sur website. The full issue of Sur can be read via this link.
Comments
comments