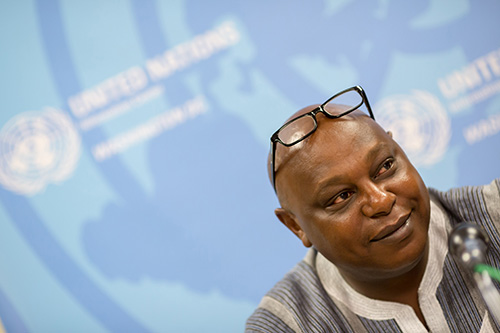 (NAIROBI/NEW YORK) – Special Rapporteur Maina Kiai has been chosen to receive the United Nations Foundation's 2016 Leo Nevas Human Rights Award, and will travel to New York to accept the prize at the Foundation's Global Leadership Dinner on Oct. 19.
Fellow honorees at the event will include United States President Barack Obama – who will receive the foundation's Champion for Global Change Award – and Ertharin Cousin, Executive Director of the World Food Programme. The Leadership Dinner is co-sponsored by the United Nations Association of the United States of America (UNA-USA).
The award honors Kiai's work advancing civil liberties worldwide as UN Special Rapporteur on the rights to freedom of peaceful assembly and of association. Kiai has served in the position since May 1, 2011.
"I am honored and humbled to receive the 2016 Leo Nevas award for my work as Special Rapporteur," Kiai said. "But in truth, this award recognizes something far beyond me personally: it is a validation of our collective global fight to restore civil society to its rightful place at the center of democracy and development. And it is an opportunity to spotlight this fight, because it is far from over. Peaceful protests continue to be put brutally down; members of civil society continue to be harassed, arrested and killed; and people's voices continue to be silenced across the world, in "traditional" democracies, transitional democracies and under authoritarian regimes."
The Leo Nevas Human Rights Award was launched by the Leo Nevas Human Rights Task Force in 2007 to honor its longest-serving board member Leo Nevas, a lawyer and human rights advocate. Nevas was a proponent of the importance of the United Nations' principles and his commitment made it possible to support human rights through education and advocacy – a legacy encouraging global citizenship. The award recognizes those who have served as agents of change in advancing international human rights.
Previous recipients of the award include US Ambassador to the United Nations Samantha Power, US Congressman Tom Lantos and Sheryl WuDunn.
About Maina Kiai
In addition to his work as UN Special Rapporteur, Maina Kiai also co-directs the Nairobi-based NGO InformAction, a community organizing NGO which uses film and community discussions to encourage ordinary citizens to speak out and take action for good governance. He helped found the organization in 2009.
Kiai's prominence in human rights work began as the founding Executive Director of the NGO Kenya Human Rights Commission in 1992, Kenya most prominent human rights organization. Kiai later became the first Chairman of the official Kenya National Human Rights Commission in 2003-2008, after serving as Director of Amnesty' International's Africa Programme (UK) and the Africa Director of the International Human Rights Law Group (US). During the 2007-8 election violence in Kenya, Kiai was notably outspoken about ethnic divisions and the need to hold leaders accountable. In 2014, Freedom House awarded Kiai its Freedom Award for his work in Kenya.
About the United Nations Foundation and Global Leadership Dinner
The United Nations Foundation was created in 1998 as a U.S. public charity by philanthropist and media mogul Ted Turner and now is supported by global corporations, foundations, governments, and individuals. Current board members include former UN Secretary General Kofi Annan and Her Majesty Queen Rania Al-Abdullah of Jordan.

The Global Leadership Dinner was first held 55 years ago by the UNA-USA, and has since been held annually to bring together policymakers, diplomats, UN supporters, business leaders, and to call attention to some of the world's most pressing humanitarian crises, and recognize the vital role the UN can play in advancing peace, prosperity and justice.
The Dinner is described on the UNA-USA website as "one of New York's top events … distinguished by A-list attendance representing the highest levels of the diplomatic, business, government, philanthropic, media, entertainment and social sectors." More information on the event is available here: http://unausa.org/about-us/global-leadership-awards
Comments
comments