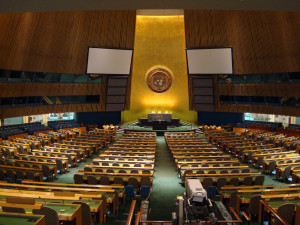 United Nations Special Rapporteur Maina Kiai told the UN General Assembly yesterday that vibrant freedoms of assembly and association are absolute prerequisites to "genuine elections" that reflect the will of the people.
The remarks came yesterday in New York, where Kiai presented his first report to the General Assembly in his capacity as the Special Rapporteur on the freedoms of assembly and of association. The report documents worldwide threats to the freedoms of assembly and of association in the context of elections – before, during and after the vote.
"Electoral periods are a key period in the life of any nation," Kiai told the UN body. "But simply holding an election is not enough: the quality of the process has a significant impact on the legitimacy of the outcome."
Kiai said that international election monitoring efforts tend to focus solely upon what happens during the vote, and do not always take into account the entire human rights landscape.
A press release is available here.
Video of the event is available here via the UN. Kiai's portion starts at approximately 1h 24m 30s.
Comments
comments