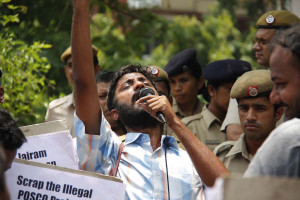 Maina Kiai and other UN experts have called for a halt to the construction of a steel plant in India, due to serious human rights concerns.
The plant in Odisha, India, reportedly threatens to displace over 22,000 people in the Jagatsinghpur District, and disrupt the livelihoods of many thousands more in the surrounding area. The project is backed by multinational steel corporation POSCO, which is based in the Republic of Korea.
According to the UN Special Rapporteur on freedom of peaceful assembly and association, Maina Kiai, "people in the project-affected area have reportedly been subjected to violence, harassment and intimidation, as well as arbitrary detentions and false charges, as a result of their activities to assemble peacefully and collectively defend their human rights."
The full press release is available in English and Chinese via OHCHR.
Comments
comments