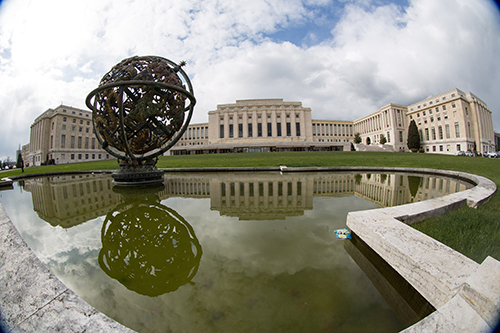 GENEVA – Special Rapporteur on extrajudicial, summary or arbitrary executions, Christof Heyns, and Special Rapporteur on the rights to freedom of peaceful assembly and of association, Maina Kiai, will appear before the Human Rights Council on 9 March 2016 at 1:30 p.m. (Geneva time) to present their joint report on the proper management of assemblies.
The presentation and interactive dialogue will be broadcast live on http://webtv.un.org/
The report summarises applicable international legal standards, and offers practical recommendations to States on how these principles might be implemented. The report has been drafted pursuant to a request from the Council in resolution 25/38.
In developing the recommendations, the Special Rapporteurs consulted widely through a written questionnaire and in-person meetings with over 50 Member States, and with over 100 experts, drawn from academia, civil society, protest movements, and National Human Rights Institutions.
"Our many conversations with States and experts confirmed that the ability to meet and act collectively is vital to democratic development and to the expression of ideas," Mr. Kiai said. "It also confirmed that basic human rights are routinely violated in the context of assemblies. These recommendations provide a roadmap on how to avoid such violations. Our hope is that States will use them."
The recommendations touch on all aspects of the management of assemblies, including: notification procedures and permissible limitations of the right to freedom of peaceful assembly; the State obligation to facilitate assemblies; the policing of assemblies including the use of force and surveillance; the monitoring and recording of assemblies; access to information; and accountability.
The Special Rapporteurs emphasize the broad range of rights impacted in the context of assemblies, and the State's obligation not only to protect, but also facilitate, the exercise of these rights. Consequently, the report states, "no assembly should be considered 'unprotected'."
"This is the first time the Council has requested that two mandates jointly compile recommendations on the management of assemblies – which is indicative of the wide range of rights impacted in the context of assemblies, and of the pressing need for guidance on this topic," said Prof. Heyns. "We believe this report makes a practical and important contribution to a growing body of standards on how assemblies ought to be facilitated and managed."
The report (A/HRC/31/66) is available via this link: http://freeassembly.net/reports/managing-assemblies/
Other events
While in Geneva, Special Rapporteur Kiai will also participate in a number of side events, including:
• "Sectoral Equity: Enabling civic space means good business environment," March 8, 2016 at 11 am to noon (Room XXIII, Palais des Nations) – sponsored by the International Center for Not-For-Profit Law, European Center for Not-For-Profit Law, Article 19, CIVICUS and the World Movement for Democracy
• "Social protests & the use of force," March 9, 2016, 10-11 am (Room XVIII, Palais des Nations) – sponsored by the International Network of Civil Liberties Organizations.
• "Side event on the proper management of assemblies," March 10, 2016, 9-11 am (Room V, Palais des Nations) – sponsored by the Government of Switzerland
• Side event on human rights in Azerbaijan, March 11, 2016, 10-11 am (Room XXVII, Palais des Nations) – sponsored by the Government of Ireland
Comments
comments