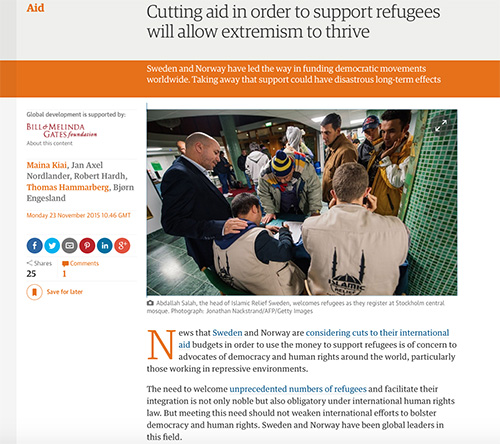 UN Special Rapporteur Maina Kiai has co-authored a commentary for the Guardian's Global Development blog urging the governments of Sweden and Norway not to cut international development aid to support the recent influx of refugees.
The piece was co-authored by former Council of Europe Commissioner for Human Rights Thomas Hammarberg, former Swedish ambassador for human rights Jan Axel Nordlander, Civil Rights Defenders executive director Robert Hardh; and Norwegian Helsinki Committee secretary general Bjørn Engesland.
Sweden is currently studying the potential effects of cutting its aid budget by up to 60%, while Norway is reportedly looking at a roll-back of approximately 21%. The authors note that both countries are among the most generous in the world in terms of foreign aid – particularly when it comes to giving directly to civil society. Sweden, for example, dedicates roughly one-sixth of its aid budget to civil society, including support for those working on democracy-building and human rights.
Reducing this support would decimate civil society at a time when such support is most needed.
"The consequences of a weakened global civil society movement could ultimately come back to haunt Sweden and Norway," the authors write. "Funding independent civil society in other countries is not just altruistic, it can also help to ensure that a refugee crisis does not happen again. People are less likely to leave places that enjoy long-term peace, accountability and stability, since these factors accelerate development."
The full piece is available via the Guardian.
Comments
comments