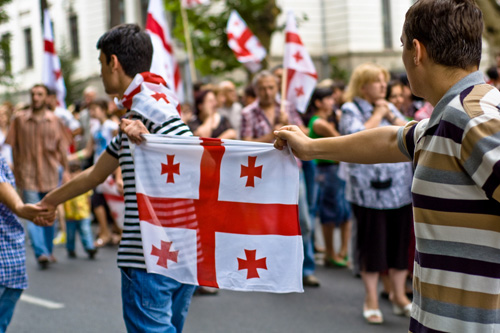 TBILISI, GEORGIA – United Nations Special Rapporteur on the rights to freedom of peaceful assembly and of association, Maina Kiai, voiced alarm at the increasing climate of fear and intimidation against opposition parties, labour unions and members of non-governmental organizations. At the end of his eight-day mission to the country, Mr. Kiai warned that a number of restrictive legislative amendments adopted in late December 2011 by the Parliament of Georgia restricted the freedom of association.
"It is clear that all these restrictive efforts have been put in place to deliberately prevent and restrict certain individuals from standing in the upcoming parliamentary and presidential elections," the expert said. "The role of freedom of association in this context is to give hope to any political party that it can genuinely compete in elections. In the case of Georgia, there is an unequal political playing field."
"Georgia has come a long way since in 2003," Mr. Kiai said, "however, there are a number of worrying signs that indicate that the focus on greater modernization and investment can easily derail the human rights achievements that were won through the painful process of the Rose Revolution. Given the way the current government was formed there is an expectation to respect the rights of peaceful assembly and association."
Regarding the situation of labour unions, the Special Rapporteur noted that they operate in a very difficult labour environment, and expressed concern about allegations of dismissals of public and private sector employees in Georgia for apparently supporting opposition parties.
"Georgian labour laws provide for easy dismissal of workers, with no requirement to provide reasons, as long as the minimum monthly compensation is paid. This legal regime can inhibit the freedom to form, organize and operate trade unions, as employers – private and public – have almost unfettered discretion, and can find easy excuses to fire workers who try to form and operate trade unions which they may not want," the independent expert said. "Even as the Government is making major efforts to attract investment, this must be done whilst protecting human rights."
Mr. Kiai also made reference to the events of 26 May 2011, where police resorted to excessive use of force to disperse an assembly in Tbilisi. "A new, independent and transparent investigation must be undertaken with the participation of all stakeholders – which include opposition leaders, civil society representatives, the Government and representatives from the international community to ensure that all views and perspectives are taken into account, and that there is accountability for the clear excessive use of force that occurred. In the absence of that, the perception of impunity and dissatisfaction towards the Government will prevail," he stated.
The rights expert drew special attention to the deliberate use of administrative detentions and sentences of up to 90 days without adequate procedural safeguards in Georgia. "I am alarmed by the frequency of consistently resorting to this form of detention, especially for dealing with protesters," he said.
"Considering the overwhelming cases of allegations of acts of violence and ill-treatment by law enforcement officials against protesters, these measures can trigger a chilling effect on any activist on the ground willing to express dissent through a peaceful assembly," the independent expert concluded.
The Special Rapporteur will present the comprehensive findings of his mission at the June 2012 session of the Human Rights Council.
(Update: Kiai's full statement and report are now available here)
The full press release is available in English via OHCHR.
Comments
comments