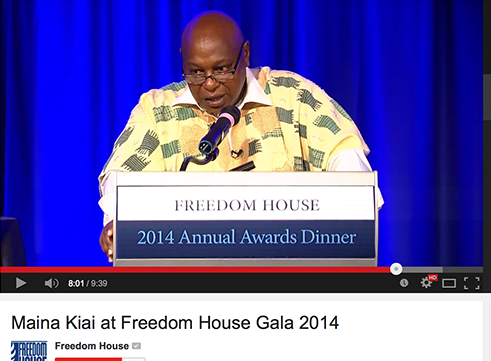 (Press release provided by InformAction)
(NAIROBI/WASHINGTON, DC) – InformAction is proud to announce that Co-Director Maina Kiai will receive the prestigious Freedom Award, in Washington DC, on Oct. 1, 2014, in recognition of his 'invaluable contribution to the cause of freedom and democracy'.
The award from Freedom House honors his work in Kenya as a prominent civil society leader, and as an internationally renowned human rights defender. It comes at a time when Kenya's civil society – demonized as 'evil society' – faces increased government hostility, and legislation that threatens to restrict its freedoms and funding.
Previous recipients of the award include Maryam Al Kharwaja of Bahrain 2012, Aung San Suu-Kyi of Burma, 2011, His Holiness the Dalai Lama, and Czech dissident and later president Vaclav Havel 1991, and US President Lyndon Johnson 1966.
Maina Kiai is currently the UN Special Rapporteur on the Rights to Freedom of peaceful Assembly and Association.
In his latest InformAction film, 'A Guidebook to Impunity," he says that as an activist 'I am not in the business of being popular. My job is to push boundaries'. He has faced personal threats, intimidation and demonization over a long human rights career. 'This award is an incredible honour, and it challenges the stigmatization of civil society in Kenya', he said.
Kiai's prominence in human rights work began as a co-founder of the Kenya Human Rights Commission in 1992. It was Kenya's first human rights organization, established the same year as the hard-won legislation for multiparty democracy. Kiai later became the first Chairman of the official Kenya National Human Rights Commission in 2003-2010, after serving as Director of Amnesty' International's Africa Programme (UK) and the Africa Director of the International Human Rights Law Group (US). During the 2007-8 election violence in Kenya, Kiai was notably outspoken about ethnic divisions and the need to hold leaders accountable – a position he continues to publically advocate despite being portrayed by the current regime as a 'traitor'.
Main Kiai, with journalist Lucy Hannan, established InformAction in 2009, launching a unique new human rights method of using film and community discussions to encourage ordinary citizens to speak out and take action. Using mobile field bases, it has empowered hundreds of thousands of Kenyans in rural and marginalized areas.
InformAction has focused on impunity, good governance and justice for victims of political violence, particularly from the 2007-8 election violence – which resulted in the indictment of the current president, Uhuru Kenyatta, and deputy president, William Ruto, at the International Criminal Court (ICC). In 2013 Kiai's family received threats that their homestead would be burnt down; and in 2014 InofrmActions work was labeled 'subversive' when Co-Director Lucy Hannan was declared a 'threat to national security'.
InformAction's latest activist film 'Unfinished Business: 'What it means to be poor in the land of Presidents' will be screened October 2nd at East Street Cinema, Washington DC, 17.30.
InformAction celebrates the award with Maina Kiai as recognition of the long struggle for freedom and justice in Kenya. It bestows dignity and acknowledgement on the survivors of political violence, and honors the vision and commitment of a dedicated civil society.
A video of Maina Kiai's acceptance speech at the awards ceremony is available here.
A video of the entire 2014 Freedom House awards gala is available here.
Comments
comments