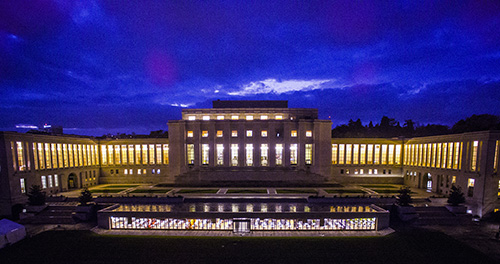 GENEVA – Former United Nations Special Rapporteur Maina Kiai will be in Geneva June 6-9, 2017, for the release of his final four reports to the Human Rights Council, and for a handful of side-events.
The reports – a thematic report mapping the achievements of civil society, country reports on his visits to the United States and the United Kingdom in 2016, and a communications report – will be presented by his successor, Annalisa Ciampi. The new Special Rapporteur on the rights to freedom of peaceful assembly and of association is scheduled to start her interactive dialogue with the Council at 15:00 on June 6. It may continue from 15:00 on June 7 as well.
The presentation will take place at the Palais des Nations, Room XX; it will be broadcast live on http://webtv.un.org/.
Thematic report: Mapping the achievements of civil society
Kiai's sixth and final thematic report to the Council maps and quantifies the myriad ways in which civil society has improved societies globally in the past decade: protecting civil and political rights, advancing development objectives, moving societies towards freedom and equality, achieving and upholding peace, regulating corporate behaviour, protecting the environment, delivering essential services, and advocating for economic, social and cultural rights.
The report (A/HRC/35/28) and a factsheet summarizing key points are available via this link: http://freeassembly.net/reports/civil-society/
Country Report: United States of America
Maina Kiai made an official visit to the United States in July 2016, and released a statement on July 27 summarizing his preliminary findings. His final report (A/HRC/35/28/Add.2) is available at the following link (along with other related materials): http://freeassembly.net/reports/usa/
Follow-up Country Report: United Kingdom
Maina Kiai conducted a brief follow-up visit to the United Kingdom in April 2016, following his initial mission to the country in 2013 (see A/HRC/23/39/Add.1). He released his preliminary findings on April 21, 2017. His final report (A/HRC/35/28/Add.1) is available at the following link (along with the Government's response to the report, photos from the mission, and other related materials): http://freeassembly.net/reports/united-kingdom-follow-up/
Communications report
The United Nations has also released a report containing former Special Rapporteur Kiai's observations on communications with Member States and replies received for the period of March 1, 2016, to Feb. 28, 2017. The report (A/HRC/35/28/Add.3) contains all communications to national governments concerning allegations of human rights abuses and is available here: http://freeassembly.net/reports/communications-2016-17/
Side-Events at the 35th Session of the Human Rights Council
While in Geneva, Kiai will also participate in the following side-events and meetings:
• See you on the streets: A look back at Maina Kiai's mandate as Special Rapporteur (2011-17) and public launch of FOAA Online! (Tuesday, June 6 – scheduled for 12:00 to 13:30, Palais des Nations, room XXIV). For a flyer with more details, click here.
• Side event to discuss the United States country report (Thursday, June 8 – 15:00 to 16:30, Palais des Nations, room XXI). For a flyer with more details, click here.
• Side event on the rights to freedom of peaceful assembly and of association in Kenya (Friday, June 9 – 14:00 to 15:30, Palais des Nations, room VIII). For a flyer with more details, click here.
• Consultations with civil society and new Special Rapporteur Annalisa Ciampi
Comments
comments