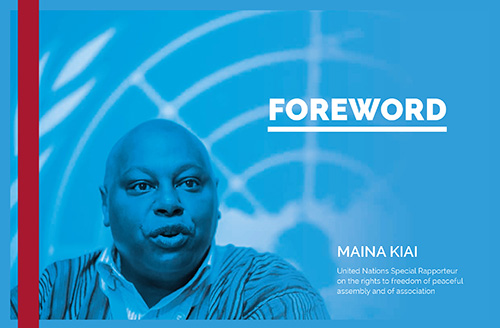 The following is adapted from the Special Rapporteur Maina Kiai's foreword to the Civic Charter – the Global Framework for People's Participation, which was facilitated by the International Civil Society Centre and released in October 2016:
It is no secret that our world faces a multitude of problems in the early years of the 21st century: growing poverty and inequality, violent extremism, intolerance of "the other," potentially catastrophic climate change, and failing states, just to name a few. Indeed these problems sometimes seem so vast and complex that it is easy to despair.
But our biggest difficulty, truly, is that so many of us are excluded from having a say in how to solve these problems. Billions of people – indeed the majority of the world – are cut off in their ability to contribute their talents, share their ideas and express their wishes.
I observe this gap each and every day in my work as UN Special Rapporteur on the rights to freedom of peaceful assembly and of association. The space for meaningful participation in many of our societies – from repressive authoritarian regimes to the "traditional" democracies – has been hijacked. Sometimes this is done structurally, through repressive legislation that closes off democratic space. Other times it is blunter, through threats, persecution, and even brute physical force against people who dare test the boundaries of participation.
Either way, the message is clear: Those in power often don't want to hear what we have to say. They don't want to upset the status quo, even if that status quo is catapulting us towards obliteration.
But in my work, I also see the other side.
Assembly and association rights are key platforms for participation, and people have an almost instinctive need to exercise them. When they are allowed to do so, great things happen. Communities come together and work for the common good. People are allowed to express their political opinions peacefully and leaders are held accountable. The arts and sciences flourish. The sharing of ideas sparks innovation. Religious groups can co-exist. Workers and employers engage in dialogue.
And above all, people take a stake in their societies. They feel motivated to build rather than to destroy, and this – more than any other system – brings stability and prosperity.
Our world does indeed face some of the gravest problems human civilization has ever seen. But these problems do not necessarily make me despair. I am confident that we are capable of solving them if we work together – but only if we are allowed to work together.
I am thus proud to endorse this Civic Charter, which is a reaffirmation of everyone's right to do this.
In solidarity,
Maina Kiai
United Nations Special Rapporteur on the rights to freedom of peaceful assembly and of association
The full Civic Charter can be accessed at the following link: http://civiccharter.org/
Comments
comments