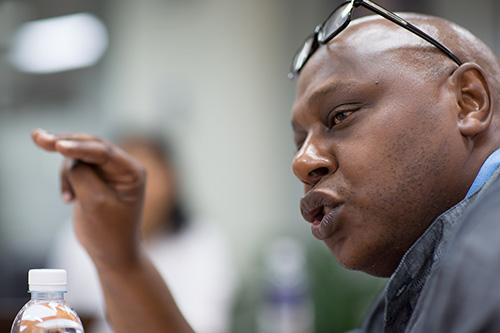 As my time as Special Rapporteur nears its end, I have been reflecting a great deal on my six years in the position – and just how much the world has changed since the Human Rights Council created my mandate in October 2010. Could anyone have imagined what the years 2011-17 would bring?
Back then, the rights to freedom of peaceful assembly and of association were somewhat neglected in the pantheon of our most cherished rights – known, but rarely in the headlines. In the years since, they have underpinned some of the most cataclysmic political events of the 21st century: revolutions in Tunisia, Egypt and elsewhere; mass protests that forced out leaders in Ukraine, Guatemala, Iceland, South Korea, Burkina Faso and Brazil; citizen movements in Hong Kong, Bahrain, Malaysia, the United States; and so much more.
And remarkably, all of this happened while governments everywhere were embarking upon the most comprehensive rollback of civic freedoms since the end of the Cold War: anti-NGO laws, restrictions on protests, increased militarization of police, and campaigns of violence, intimidation, stigmatization and arrests against activists, just to name a few. As Special Rapporteur, I was lucky enough to have a front row seat as these events unfolded – to witness them, to meet with the people who shaped them, and to attempt to make sense of it all.
And as my term comes to a close, one thing is clear: We are in the midst of an epic global struggle, and it is not just over assembly and association rights, or any other human right in isolation. It is about our freedom writ large – a global clash between tyranny and self-determination that could shape the course of our world for generations to come. It pits people eager for democratic participation versus leaders – fearful after seeing the just how powerful an engaged populace can be – who are just as eager to stop them.
It is no longer good enough to describe this conflict with euphemisms such as "closing space." It is more than that. It is a struggle for the future of democracy and democratic values.
It is also likely a fight for our very existence, given the slew of serious and intractable problems our world faces today: brutal wars, rampant corruption, devastating environmental destruction, growing poverty and inequality, violent extremism, and rising intolerance of "the other," just to name a few.
These problems are a legacy of the status quo that we have inherited – a status quo that is catapulting us towards obliteration, yet resisting change with all of its might. It is in everyone's interests to give people tools to shake up this status quo – and to do it peacefully, so that we can reconfigure it into something more sustainable, equitable and just. It is, in other words, a time when assembly and association rights are needed most, so people can peacefully speak out, contribute their talents and share their ideas.
If we don't give people these tools, our world faces a dark future.
If there is one thing I have learned in my years of activism, it's that people who have no means to engage in their society also have no stake in that society, and are less likely to defend it. Inevitably some will feel emboldened to destroy it, because it no longer includes or represents them. The destruction may not come tomorrow, next week or even next year. But its potential is there, simmering and waiting to explode.
The struggle we face today is about creating a world where people do have a stake – an opportunity to build rather than destroy.
The road to achieving this world will not be easy, but I believe that it is in our grasp. I believe because I've seen personally, activist by activist, the resilience of those fighting for it. Their dedication has made it clear that humanity's hunger for freedom and a better tomorrow is insatiable. It cannot be stopped by laws, arrests or bullets. These things only delay the inevitable.
And while I may be stepping down as Special Rapporteur on April 30, 2017, rest assured that I am not stepping away from this struggle. I will be joining you – on the streets, in our communities, and in the halls of power – to ensure that we win.
This article was adapted from the Special Rapporteur's annual report, "2016: The Year in Assembly & Association Rights," which is available here.
This letter is also available in Russian/ру́сский язы́к.
Comments
comments