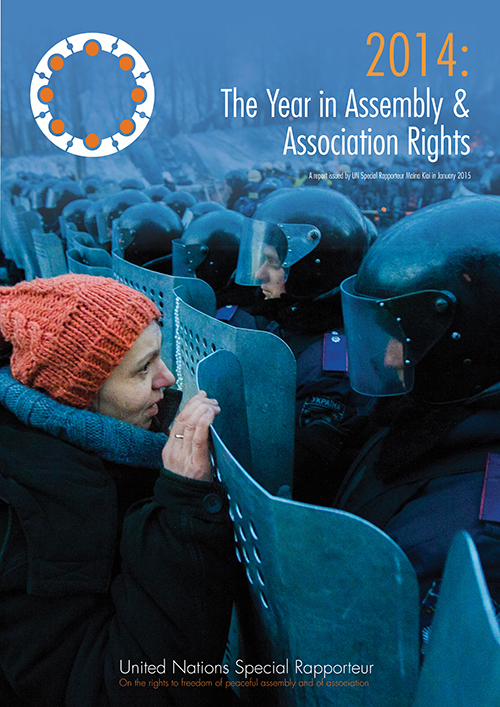 NAIROBI – UN Special Rapporteur Maina Kiai has released his mandate's first ever year-end report, which reviews the events of 2014 – from Ukraine to Egypt to the United States to Kenya – from the perspective of assembly and association rights.
The report, which serves as both a first draft of history for the events of 2014 and yearbook of his mandate's activities, is being released initially in digital format. Printed copies are expected to be available later this year.
"It is still too early to tell just how 2014 will be remembered from the perspective of assembly and association rights: The year of the protest; the year of the revolution, the year of shrinking space," Kiai writes in the report. "But one thing is certain: It will be a year that we remember."
The report notes that 2014 proved to be a year of monumental developments in the area of assembly and association rights, though the direction of change was rarely positive.
Burkina Faso, Cambodia, Thailand, Ukraine and Venezuela all witnessed massive political and social upheaval spurred by popular protests – but in some instances, these movements were followed by increased restrictions on assembly and association rights. Civil society organizations across the world continued to face a wave of restrictive new laws, often targeting disfavored groups specifically or civil society generally. In Nigeria, for example, new legislation banned all associations dealing with LGBTI issues, while Egypt introduced a new law to give the government veto power over civil society's activities.
Meanwhile, attacks and harassment of human rights defenders engaged in civil society work continued virtually unchecked.
Chinese human rights defender Cao Shunli died in custody after being arrested on her way to the UN Human Rights Council. A host of Azerbaijani activists were imprisoned for their human rights work, including 2014 Vaclav Havel award winner Mr. Anar Mammadli. And in Bahrain, Nabeel Rajab found himself again detained over his online criticism of the government, just months after being released from a two-year prison sentence for a similar offense.
There were a few positive developments, such as Tunisia's progress in transitioning from its 2011 popular revolution and a progressive ruling on the rights of LGBTI associations in Botswana. The year also produced countless stories demonstrating the remarkable courage of activists worldwide who stood up for their assembly and association rights.
But it was clear by the end of 2014 that the activists' fight is not over. The world continues to need their courage: Civic space is shrinking everywhere, with no apparent end to the trend in sight.
"We are at a decisive moment in history," Kiai said. "Governments are growing more repressive. Space to exercise the rights to freedom of peaceful assembly and of association is shrinking. This is not a phenomenon specifically linked to one country or region; it is a worldwide trend."
The report includes a personal letter from the Special Rapporteur, an extensive summary of the year's events, and in-depth coverage of the mandate's activities, including country visits, thematic reports and joint projects.
The report is available here, or by clicking the image above.
Funding for the production of this report was provided by the Norwegian Ministry of Foreign Affairs. This report was not published by the United Nations, and its content does not reflect the official position of the United Nations.
Comments
comments