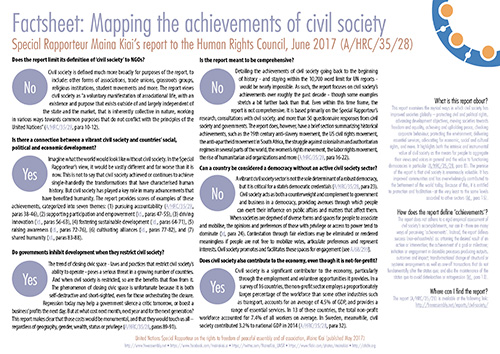 The Special Rapporteur's factsheet summarizing the achievements of civil society over the past decade-plus, presented in an easy-to use "yes/no" format, with hyperlinks to source materials.
This factsheet is based on the Special Rapporteur's 2017 report to the Human Rights Council and features guidance on:
• The connection between a vibrant civil society and a country's social, political and economic development.
• The connection between civil society and democracy
• Civil society's direct economic contributions
• "What has civil society done for you lately?" – selected examples of civil society's important recent achievements, taken from the report
• And more
For the Special Rapporteur's full factsheet series, please see: http://freeassembly.net/factsheets/
The fact sheet is currently available in the following languages:
All non-English versions are unofficial; translations not verified by the UNSR.