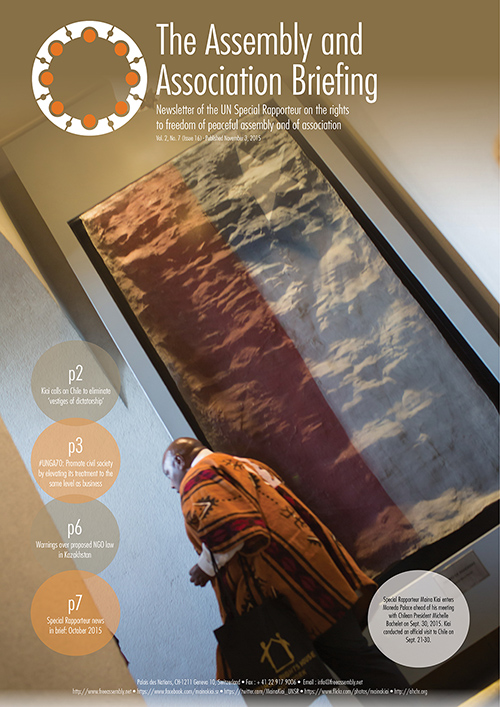 Issue No. 16 of the Assembly and Association Briefing, the newsletter of Maina Kiai, UN Special Rapporteur on the rights to freedom of peaceful assembly and of association.
In this issue:
• Kiai calls on Chile to eliminate "vestiges of dictatorship" detrimental to assembly rights
• UNSR presents report to General Assembly, urges States to promote civil society by elevating its treatment to the same level as business
• Experts urge Latin America and Caribbean: adopt trend-setting environmental agreement
• UN expert urges Angola to release 14 activists detained for criticizing Government
• Draft law threatens independence and existence of Kazakh NGOs, Kiai warns
• Heyns and Kiai wrap up consultations for recommendations on facilitating assemblies
• Freedom of association and assembly: By the numbers
• Special Rapporteur news in brief: October 2015
• World briefing: Freedom of assembly and association in the news
For a link to the newsletter, click on the image at right or click here (3.4MB file) or here (5.4MB full resolution file).
To subscribe to our newsletter, please drop us a line at info@freeassembly.net with the subject line "subscribe to newsletter."
For other recent newsletters, see the links below:
The Assembly and Association Briefing, Vol. 2, No. 4 (Issue 13) (June 2015)
The Assembly and Association Briefing, Vol. 2, No. 5 (Issue 14) (July-Aug. 2015)
The Assembly and Association Briefing, Vol. 2, No. 6 (Issue 15) (Sept. 2015)
Comments
comments