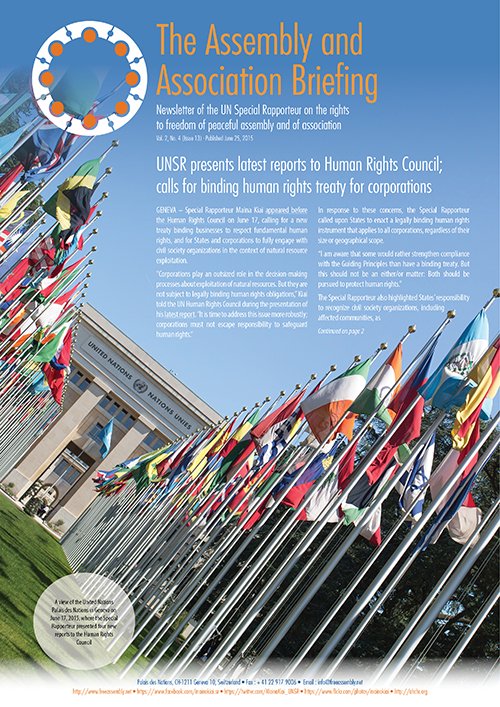 Issue No. 13 of the Assembly and Association Briefing, the newsletter of Maina Kiai, UN Special Rapporteur on the rights to freedom of peaceful assembly and of association.
In this issue:
• UNSR presents latest reports to Human Rights Council; calls for binding human rights treaty for corporations
• Cambodian civil society excluded from NGO bill drafting process, UN rights expert warns
• Kiai joins experts to speak out on youth LGBT rights
• "Azerbaijani activists must be freed before the Baku 2015 Games"
• Bolivia: Special Rapporteur files amicus curiae brief challenging NGO regulations
• The Special Rapporteur announces official visit to Chile in September 2015
• Freedom of association and assembly: By the numbers
• Special Rapporteur news in brief: May-June 2015
• World briefing: Freedom of assembly and association in the news
For a link to the newsletter, click on the image at right or click here (3.6MB file) or here (12.3MB full resolution file).
To subscribe to our newsletter, please drop us a line at info@freeassembly.net with the subject line "subscribe to newsletter."
For other recent newsletters, see the links below:
The Assembly and Association Briefing, Vol. 2, No. 1 (Issue 10) (January 2015)
The Assembly and Association Briefing, Vol. 2, No. 2 (Issue 11) (February-March 2015)
The Assembly and Association Briefing, Vol. 2, No. 3 (Issue 12) (April-May 2015)
Comments
comments