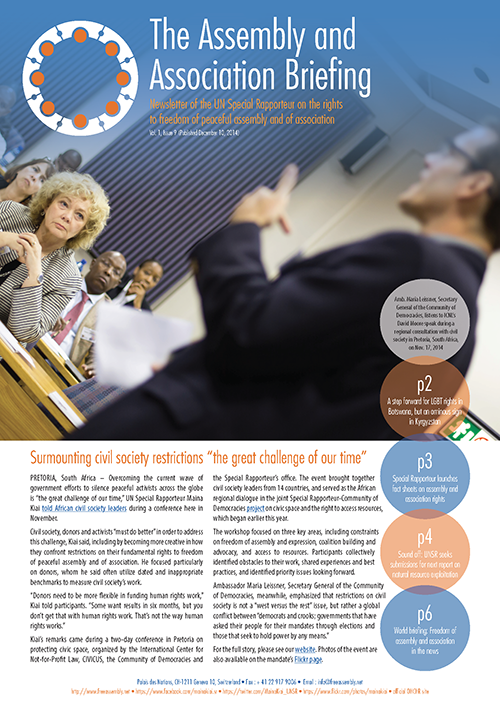 Issue No. 9 of the Assembly and Association Briefing, the newsletter of Maina Kiai, UN Special Rapporteur on the rights to freedom of peaceful assembly and of association.
In this issue:
• Special Rapporteur: Surmounting civil society restrictions "the great challenge of our time"
• A step forward for LGBT rights in Botswana, with a step backward looming in Kyrgyzstan
• Your rights on one page: UNSR releases fact sheets on assembly and association rights
• Experts: "Legitimate concerns" over outcome of Michael Brown and Eric Garner cases
• Sound off for the UNSR's next report: Tell us your views on FOAA rights in the context of natural resource exploitation
• Video: Strategic litigation for assembly & association rights
• Freedom of association and assembly: By the numbers
• Special rapporteur news in brief: November-December 2014
• World briefing: Freedom of assembly and association in the news
For a link to the newsletter, click on the image at right or click here (1.3MB file) or here (6.8MB full resolution file).
To subscribe to our newsletter, please drop us a line at info@freeassembly.net with the subject line "subscribe to newsletter."
For other recent newsletters, see the links below:
The Assembly and Association Briefing, Vol. 1, Issue 6 (July-August 2014)
The Assembly and Association Briefing, Vol. 1, Issue 7 (September 2014)
The Assembly and Association Briefing, Vol. 1, Issue 8 (October-November 2014)
Comments
comments