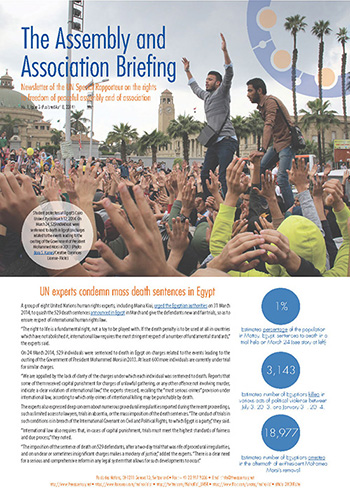 Issue No. 3 of the Assembly and Association Briefing, the newsletter of Maina Kiai, UN Special Rapporteur on the rights to freedom of peaceful assembly and of association.
In this issue:
• ŸŸŸŸŸŸUN experts condemn mass death sentences in Egypt
• UN rights experts express concern as Turkey bans Twitter and YouTube ahead of elections
• China: UN experts deplore events leading to death of HRD Cao Shunli, ask for full investigation
• UN experts: Venezuela must account for arbitrary detentions and violence against protesters
• Thailand: 10 years after Somchai's disappearance, family still awaiting truth and justice
• Myanmar: UN expert raises alarm on Rakhine State
• Assembly & association rights: By the numbers
• Special rapporteur news in brief: March and April 2014
• World briefing: Freedom of assembly and association in the news
For a link to the newsletter, click on the image at right or click here.
To subscribe to our newsletter, please drop us a line at info@freeassembly.net with the subject line "subscribe to newsletter."
For other recent newsletters, see the links below:
The Assembly and Association Briefing, Vol. 1, Issue 1 (Jan. 2014)
The Assembly and Association Briefing, Vol. 1, Issue 2 (Feb-March 2014)
Comments
comments